Una delle caratteristiche principali dei nuovi titoli della serie Persona sono i cosiddetti Social Link, ovvero rapporti con vari personaggi all'interno del gioco a cui sono associati diversi tarocchi.
Passare del tempo con loro farà crescere di rango il Social Link associato, permettendoci di ottenere diversi bonus utili per il gameplay
In questa guida vi spiegheremo come far avanzare facilmente il Social Link dell'arcano Tower, associato a Shu Nakajima.
Profilo personale
Shu Nakajima è un giovane ragazzino che frequenta ancora le medie, ricoprendo lo stereotipo del personaggio molto bravo a scuola e dal tipico aspetto da "nerd" (camicia a quadri, occhiali da vista spessi e fisico molto gracile).
Il protagonista di Persona 4 incontrerà Shu dopo aver accettato di dargli ripetizioni per aiutarlo con lo studio, ed è proprio grazie a questo lavoro che il suo Social Link inizierà.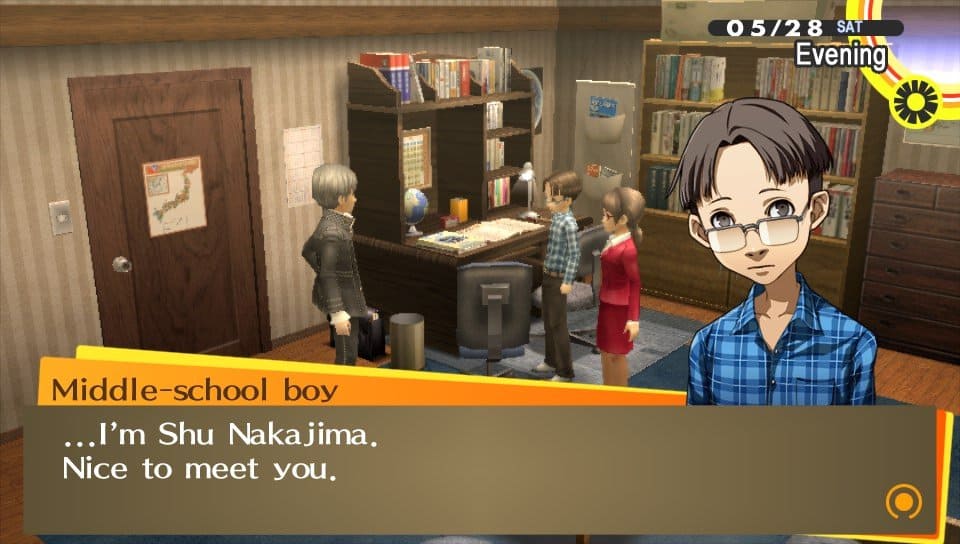 Durante la storia dovrà affrontare diverse paure che lo attanaglieranno costantemente, primo fra tutti il timore di deludere la madre nel caso in cui non riuscisse ad essere il primo della classe, passando per diversi momenti traumatici come il bullismo subito da un nuovo compagno di classe e il continuo ripresentarsi di certi incubi terribili la notte.
Starà al protagonista risollevargli il morale dopo tutti questi avvenimenti, permettendogli di capire che i voti non sono l'unica cosa che può fargli guadagnare l'approvazione della madre.
Disponibilità e posizione nella mappa di gioco
| | |
| --- | --- |
| Lunedì | ✘ |
| Martedì | ✓ |
| Mercoledì | ✘ |
| Giovedì | ✓ |
| Venerdì | ✘ |
| Sabato | ✓ |
| Domenica | ✘ |
| Tempo piovoso | ✘ |
Lo troverete durante tutta la settimana nella fermata del bus a sud del Shopping District.
Potrete cominciare questo Social Link a partire dal 25 Maggio candidandovi per un lavoro da tutor (dovrete avere la Social Skill Understanding a LV 5).
Risposte alle domande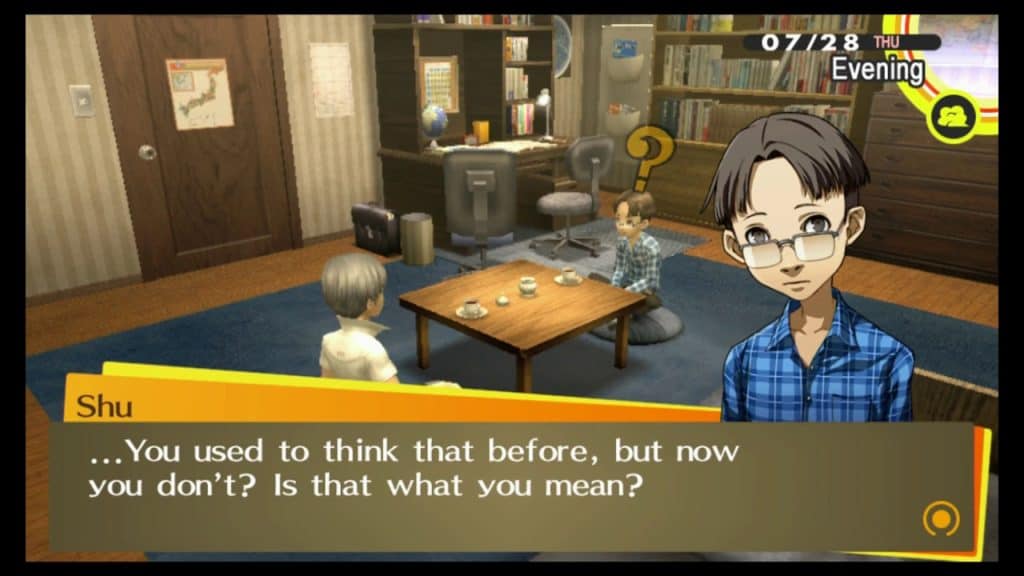 Ricordate di equipaggiare sempre una Persona dell'Arcano Tower per guadagnare più punti durante le interazioni con Shu (la tabella sottostante terrà conto di ciò quando specificherà i punti ottenuti).
Essendo inoltre necessaria a tratti la Social Skill Diligence, consigliamo di portarla a livello 5 prima del secondo rango.
Rango
Punti necessari
Risposte migliori alle domande
1
0
1) If I think you're inadequate, I'll have you replaced immediately. Remember that.
Risposta: Qualsiasi (+0)
2) You feel confident that you should teach him:
Risposta: Qualsiasi (+0)
In base a quale materia sceglierete, otterrete un piccolo bonus alle seguenti Social Skill:
– Math: Expression, Knowledge
– English: Expression, Knowledge
– PE: Diligence, Expression, Knowledge
2
0
1) …If I get into a good college… Am i really "Set"?
Risposta: Qualsiasi (+0)
2) …Do you know what that means?
Risposta: Sure I do. (+2)
3) Huh… Time's already up. We were still in the middle of that last question…
Risposta: I'll stay and help you. (richiede LV 5 in Diligence) (+2)
3
2
1) What do you think of your school?
Risposta: It's boring. (+3)
2) … …
Risposta: Well, it is the countryside. (+3)
4
6
1) … They don't get what it means to learn at all.
Risposta: That's just how it is. (+2)
2) That place…
Risposta: You're not the only one. (+3)
Scegliere questa risposta darà anche un lieve aumento nella Social Skill Courage
5
3
1) Is there any bullying at your school?
Risposta: No, there isn't. (+2)
2) Maybe that's not the same thing as bullying.
Risposta: Put some effort into it. (+3)
3) It seems that I've been talking to you about things that really aren't relevant to my studies…
Risposta: Qualsiasi (+2)
Rispondere "I don't mind." darà un lieve aumento nella Social Skill Understanding
6
5
1) *Sigh*
Risposta: Qualsiasi (+0)
2) … They're all stupid.
Risposta: Qualsiasi (+0)
3) Um… You only come here because you're being paid to, right?
Risposta: That's not it. (+3)
7
5
1) … I wish I was a genius.
Risposta: Qualsiasi (+0)
2) Let's change the subject to something else, What's up?
Risposta: What I like in a girl is… (+3)
In base a quale risposta sceglierete, inoltre, otterrete un piccolo bonus alle seguenti Social Skill:
– "The other day at school…": Expression
– "About these murders…": Expression
– "What I like in a girl is…": Courage
8
4
1) Is it possible for anyone to be all those things? Do you know anyone like that?
Risposta: This guy. (+3)
2) …Every time I have that dream, the person gets one car closer to me.
Risposta: Qualsiasi (+0)
3) Shu suddenly looks tormented
Risposta: Cheer him up. (+3)

La volta successiva in cui vorremo andare a trovare Shu, verremo invece rimandati a casa
9
4
1) Today…is my birthday, I forgot…
Risposta: Qualsiasi (+0)
2) Shuu looks sad…
Risposta: Qualsiasi (+0)
3) First, you need…
Risposta: Qualsiasi (+0)
Rispondendo alla prima opzione, otterrete anche la seguente domanda:
4) Well…its look like the only place you can order it.
Risposta: Qualsiasi (+0)
5) Shuu begins to sob…
Risposta: Qualsiasi (+0)
6) Shu begins to cry again.
Risposta: Qualsiasi (+0)
10
0
Thank you for recognizing… "me." I wouldn't have been able to talk to Mom if you hadn't.
Risposta: Qualsiasi (+3)
Massimizzare il suo Social Link vi permetterà di ottenere l'oggetto Test Results, permettendovi di sbloccare la fusione della Persona più potente dell'arcano Tower, Shiva.
Se volete altre informazioni su come ottenere il platino, sui finali, sui boss opzionali e su tante altre meccaniche del gioco, vi rimando direttamente alla nostra guida completa su Persona 4 Golden.
Hai altre domande, bisogno di aiuto o semplicemente ti va di parlare di videogiochi? Ci trovi anche al Baretto Videoludico, a cercare di portare il nostro medium preferito oltre le regole.