Una delle caratteristiche principali dei nuovi titoli della serie Persona sono i cosiddetti Social Link, ovvero rapporti con vari personaggi all'interno del gioco a cui sono associati diversi tarocchi.
Passare del tempo con loro farà crescere di rango il Social Link associato, permettendoci di ottenere diversi bonus utili per il gameplay
In questa guida vi spiegheremo come far avanzare facilmente il Social Link dell'arcano Death, associato a Hisano Kuroda.
Profilo personale
Hisano è un'anziana donna che il protagonista incontrerà prendendo il lavoro di Hospital Janitor, cioè di addetto pulizie dell'ospedale. Qui la vedrà per due volte, fino a che non dovrà lasciare l'ospedale, in cui non c'è più niente che le rimanga.
Il tema principale del suo Social Link è appunto, come ricordato dal suo arcano, quello della morte, cioè Death. Appena il protagonista parlerà alla donna, questa gli rivelerà che a essere morto è suo marito, di cui fa ancora fatica ad accettare la dipartita.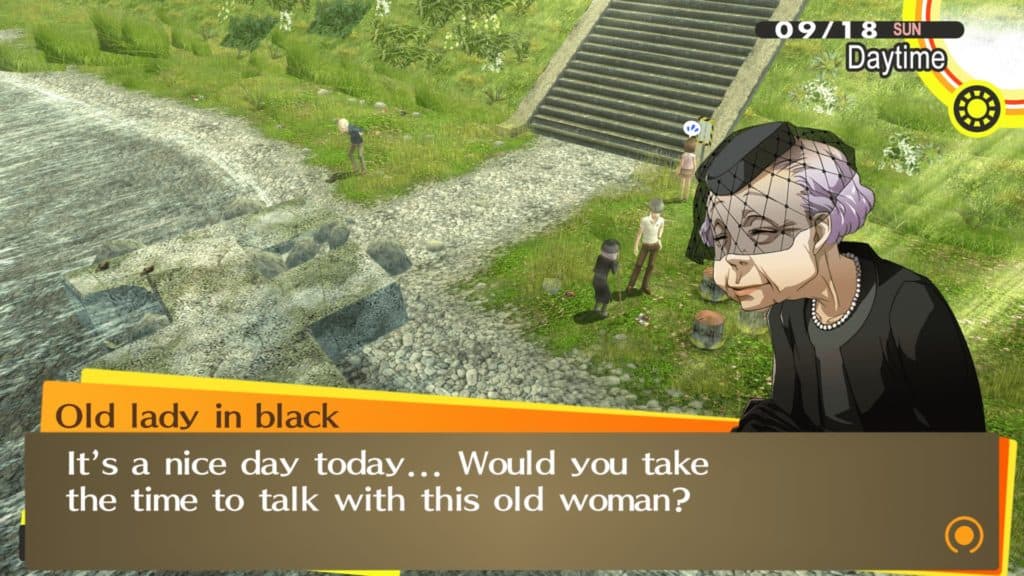 Una delle prime domande che farà, infatti, è "Do I look like Death to you?" – questo fa riferimento al suo aspetto. Porta infatti sempre vestiti neri, con un velo che le copre la faccia, in un tipico abbigliamento da funerale.
Ha un rapporto molto difficile con suo marito, che l'ha portata a fare molte domande sulla morte, e sugli effetti che questa porta, pensieri che rivelerà rivelerà pian piano durante il Social Link anche al protagonista.
Disponibilità e posizione nella mappa di gioco
| | |
| --- | --- |
| Lunedì | Se festivo |
| Martedì | Se festivo |
| Mercoledì | Se festivo |
| Giovedì | Se festivo |
| Venerdì | Se festivo |
| Sabato | Se festivo |
| Domenica | ✓ |
| Tempo piovoso | ✘ |
Potete trovare Hisano durante tutti i giorni di vacanza nel Riverbank della Samegawa Flood Plain dopo aver sbloccato il suo Social Link.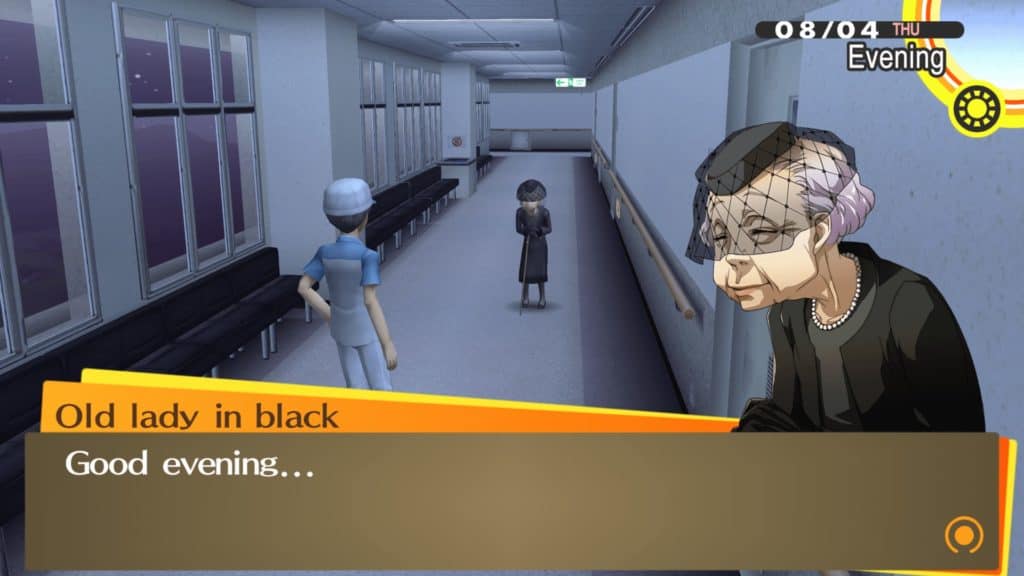 Per farlo, dovrete arrivare al Rank 4 con il Social Link di Sayoko (Devil): durante un evento vedrete l'anziana che esce dall'ospedale, che vi inviterà a parlarle quando non è a lavoro – cioè, appunto, nei giorni festivi.
Risposte alle domande
Ricordate di equipaggiare sempre una Persona dell'Arcano Death per guadagnare più punti durante le interazioni con Hisano (la tabella sottostante terrà conto di ciò quando specificherà i punti ottenuti).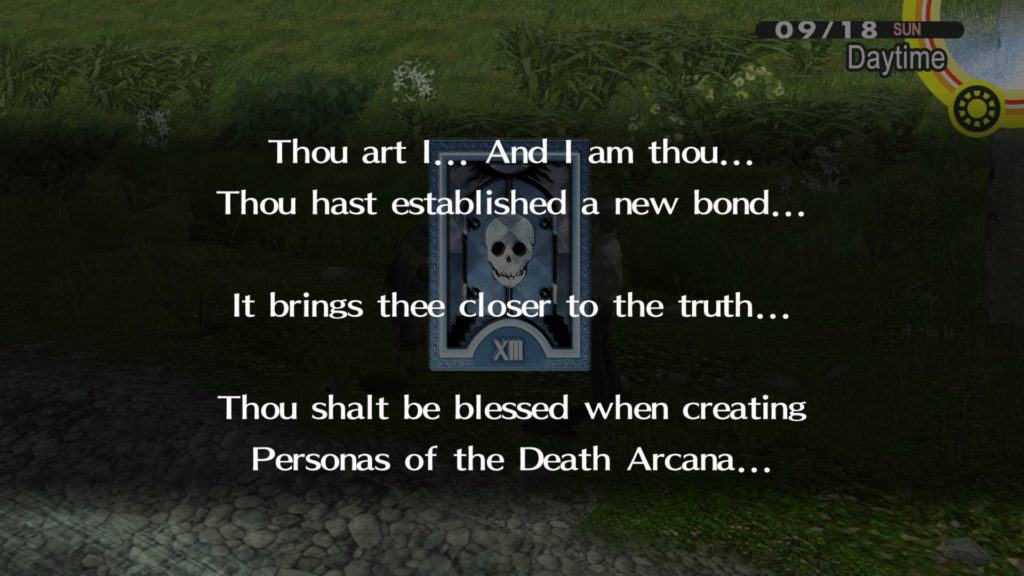 Abbiamo anche una guida completa al gioco che potrebbe aiutarvi nelle vostre partite a Persona 4 Golden, se vi servisse aiuto con altri aspetti del gioco o con altri Social Link.
Vi specifico inoltre che vi servirà parlare con Daidara del negozio di armi per avanzare al Rank 7 di questo Social Link ( – vi darà l'oggetto "Husband's Letter", che dovrete dare a Hisano).
Rango
Risposte migliori alle domande
1
(Nessuna domanda)
2
1) Haha, he was a handsome man.
Risposta: Qualsisi (+3)
2) Do I look like Death to you?
Risposta: Qualsiasi (+0)
3
1) Watching the river here with you, like this brings back memories..
Risposta: Qualsiasi (+3)
2) …I was happy back then.
Risposta: I'm jealous. (+0)
3) He went to Heaven… and i will surely go to Hell.
Risposta: Qualsiasi (+3)
4
1) My husband's tsuki meinichi is today, and I've just come back from visiting his grave.
Risposta: Qualsiasi (+2)
2) For those trying to reach the gods, and to the families of those people, death can be an ally.
Risposta: Qualsiasi (+0)
3) You don't quite understand it yet, do you?
Risposta: Qualsiasi (+0)
5
1) It must be boring, listening to this old bag's stories…
Risposta: Qualsiasi (+3)
2) Enough about me. I want to hear something from you. Tell me anything.
Risposta: Talk about school. / Talk about girls. (+3)
3) But… I do not want to see you anymore.
Risposta: Qualsiasi (+0)
6
1) Being noncommittal… floating around, never deciding to be one thing nor another. Can a man understand that?
Risposta: Qualsiasi (+3)
2) But I wanted to write my reply so badly, so I would grow impatient and read it carefully, over and over.
Risposta: Letters? How inconvenient. (+0)
7
(Richiede Husband's Letter da Daidara)
(Tutte le risposte hanno lo stesso effetto.) (+0)
8
I must accept that…
Risposta: Qualsiasi (+3)
9
1) I didn't want to accept that he had died all by himself, not remembering me, leaving me behind…
Risposta: Qualsiasi (+3)
2) Haha… But it's too late now, isn't it?
Risposta: Qualsiasi (+3)
10
1) At first, I turned them down because I didn't want to leave the place I was born in, but…
Risposta: Qualsiasi (+3)
2) I'd feel that… our story hasn't truly ended…
Risposta: Qualsiasi (+0)
3) …Do you have someone you love?
Risposta: Qualsiasi (+0)
Una volta completato questo Social Link riceverete l'oggetto Old Fountain Pen che permette di creare tramite fusione la Persona Mahakala.
Hai altre domande, bisogno di aiuto o semplicemente ti va di parlare di videogiochi? Ci trovi anche al Baretto Videoludico, a cercare di portare il nostro medium preferito oltre le regole.