---
In questa puntata di Gameromancer:
Intro + Sigla [0:00]
Presentazione Ospiti & Tema: in una puntata interna, il dream-team di Gameromancer si introduce con sobrietà e si appresta a parlare dell'E3 2018 [3:20]
E3 2018 – Pronostici & Date: l'interesse nella conferenza PC Gamer; la solitudine di Filippo; tema principale: le conferenze in ordine di data [6:28]

Electronic Arts (9 Giugno, 20:00): Battlefield V; titoli original; la morte di Battlefront II [8:04]
Microsoft – Xbox (10 Giugno, 22:00): speculazioni e previsioni; i nuovi Gears of War, Halo, Forza Motorsport [12:42]
Bethesda (11 Giugno, 03:30): Rage 2, DLC di Prey e alt(r)e aspettative [17:20]
Square Enix (11 Giugno, 19:00): Kingdom Hearts III e il mito della data d'uscita; NieR: Automata su Xbox One; Shadow of the Tomb Raider [22:21]
Ubisoft (11 Giugno, 22:00): Beyond Good & Evil 2 è ancora vivo? Probabili Watch Dogs 3, reboot di Prince of Persia (magari), seguito di The Crew (magari no) e un DLC per Mario & Rabbids [27:36]
PC Games (12 Giugno, 00:00): Devolver Digital. Punto. [32:34]
Nintendo (12 Giugno, 18:00): i nuovi Pokémon, Bayonetta 3, Super Smash Bros, Yoshi's Island e Star Fox [34:46]
Sony (12 Giugno, 03:00): Sucker Punch e il suo Ghost of Tsukushima Fukushima Tsushima; Spider-Man; The Last of Us Part II; Death Stranding [45:04]

Outro: saluti finali; sigla di chiusura [53:32]
Bloopers: l'intervista a David Hayter; i successi di Konami; Detroit e i funghetti di Super Mario; Guido e il trillo di Skype; le raspe di Stefano [56:26]
Insulti alla Regia [un po' ovunque]
---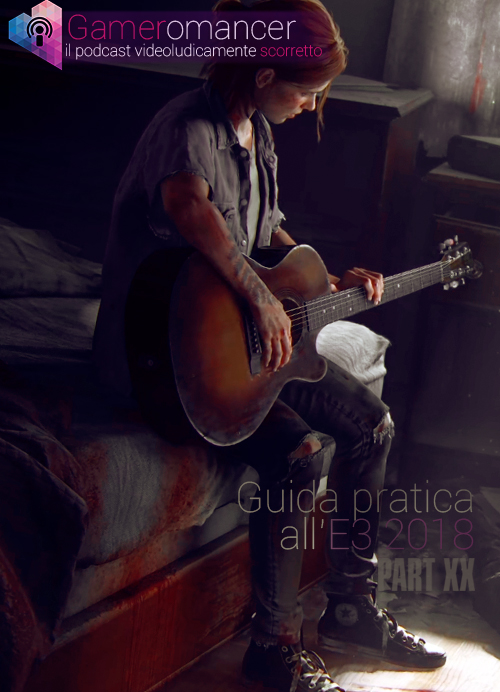 Il podcast videoludicamente scorretto torna con una puntata tutte bestemmie, ignoranza ed E3 2018. I maestri della volgarità applicata al videogioco sono lesti ad approfittare dell'assenza di ospiti esterni, e non appena si allargano le maglie del controllo ecco che ritornano in pompa maglia le vecchie, sboccate e assolutamente anticonvenzionali maniere che hanno reso Gameromancer la vostra vergogna segreta.
Nessun esterno dalla redazione quindi, ma alla voce portante del Creative Director, conduttore, autore e ideatore del programma – sì, ha più titoli di uno dei Savoia a caso – Pietro Iacullo si affiancano il secondo in comando Guido Avitabile, lo stacanovista Filippo Veschi e uno Stefano Calzati che ormai conta più presenze fisse degli assenti storici. Il tema della puntata non poteva essere che l'E3 2018, con l'ovvio product placement del nostro Road To verso Los Angeles e il commento, conferenza per conferenza, di quelle che sono le aspettative, i rumor e più in generale tutte le chiacchiere attorno a quello che ci aspettiamo di vedere tra un paio di settimane. Non potevano di certo mancare frecciatine, commenti e ironie facili su alcuni degli annunci dell'ultima ora, qualche commento assolutamente random su Solo e su Star Wars e tante, tantissime offese al regista Antonino Lupo.