In ossequio al "nessun riposo per i malvagi" titolato da un album di Ozzy Osbourne, Doom non accenna a fermarsi. Dopo l'uscita dell'aggiornamento 6.66 (che ha inserito diverse novità, oltre a rendere disponibili per tutti i DLC rilasciati in precedenza), il titolo di Bethesda regala un weekend gratuito a tutti gli abbonati PlayStation Plus.
La prova gratuita comprende quindi logicamente anche i tre contenuti aggiuntivi dedicati al multiplayer, Unto the Evil, Hell Followed e Bloodfall.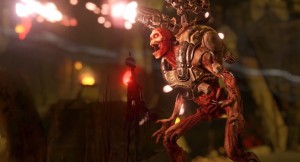 Per approfondire:
Doom
L'annuncio curiosamente segue di qualche ora un'iniziativa analoga di Microsoft, che ha messo a disposizione su Xbox One ai suoi abbonati Diablo 3: Reaper of Souls per il finesettimana.
Gli abbonati PlayStation Plus possono quindi giocare gratuitamente Doom – e relativi DLC – per il finesettimana
Hai altre domande, bisogno di aiuto o semplicemente ti va di parlare di videogiochi? Ci trovi anche al Baretto Videoludico, a cercare di portare il nostro medium preferito oltre le regole.