Casual Bit Games annuncia, tramite comunicato stampa, che la campagna Kickstarter per Battle Princess Madelyn si è conclusa con il 354% dei fondi richiesti.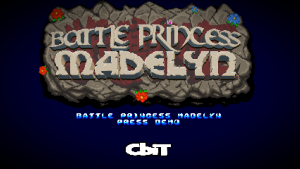 Per approfondire:
Battle Princess Madelyn
PayPal Store Now Open For A Limited Time
PayPal Store – http://store.battleprincessmadelyn.com/
Kickstarter page – www.battleprincessmadelyn.com
Steam page – http://store.steampowered.com/app/603930
IndieDB page (direct download) – http://www.indiedb.com/games/battle-princess-madelyn/downloads/battle-princess-madelyn-pre-alpha-build
[nggallery id=3569]
April 18 2017 – Nova Scotia, Canada. Causal Bit Games are pleased to announce that their Kickstarter for Battle Princess Madelyn closed at 354% of its funding target, attracting an incredible 3,402 backers who pledged CA$212,665 and are looking to continue raising funds through their PayPal Store.
"The campaign for Battle Princess Madelyn was an incredible and humbling experience. We honestly didn't anticipate such a strong response for our game and it's absolutely overwhelming hearing how people can relate to Maddi's story. With this level of funding we will deliver our vision and make the game the very best it can be," said Christopher Obritsch, Creative Director at Causal Bit Games. "For those of you who wanted to support our game, but were unable to pledge on the Kickstarter, we're happy to say that we now have a PayPal Store open that mirrors the campaign's tiers!"
For a strictly limited time period, buyers can still support the game via the PayPal Store, complete with the backer rewards from the Kickstarter. Funds collected with continue towards final stretch goals that were not achieved during the campaign.
Fonte