---
Rice Digital ha annunciato ufficialmente che BlazBlue Central Fiction vanterà un'esclusiva "Azure Edition" europea, disponibile solo per gli acquisti sullo store online.
Il titolo sarà rilasciato su PlayStation 4 e PlayStation 3 a Novembre 2016, e rappresenterà il culmine della storyline attuale della serie di BlazBlue, sviluppata da Arc System Works.
recensione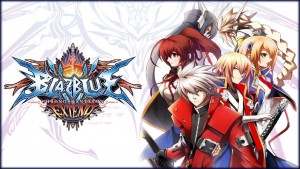 BlazBlue: Chronophantasma Extend
Quando è tempo di dare un consiglio ad un amico sull'acquisto di un picchiaduro "tecnico" (da opporre a quei titoli che fanno la gioia dei "button-masher"), chi ha giocato un gran numero di titoli diversi tende sempre a piazzare i lavori di Arc Syste...
Nello specifico, l'Azure Edition includerà (oltre al gioco originale) un artbook di 100 pagine dedicato all'intera serie, la colonna sonora di BlazBlue: Song Interlude III, una miniatura di Noel Vermillion e una box-art esclusiva.
Di seguito il comunicato d'annuncio ufficiale:
BLAZBLUE CENTRALFICTION 'Azure Edition' revealed!
RICE DIGITAL, Bristol (29 September 2016) –  Rice Digital is proud to announce that the Azure Edition of BLAZBLUE CENTRALFICTION for Europe will be exclusive to the Rice Digital store.
Releasing on PS4 and PS3 in November 2016, BLAZBLUE CENTRALFICTION serves as the epic climax to the current BLAZBLUE story arc. The Azure Edition is the ultimate collector's pack for what is widely considered to be one of the finest, most beautiful fighting game series ever made.
The BLAZBLUE CENTRALFICTION Azure Edition features;
The BLAZBLUE CENTRALFICTION game on PS4 or PS3.
The original 100 page artbook for CENTRALFICTION containing a special collection of artwork from the full BLAZBLUE archive – from Calamity Trigger, to Continuum Shift, Chronophantasma and CENTRALFICTION itself.
The BLAZBLUE Song Interlude III Offical Soudtrack.
A Noel Vermillion Nendoroid Petit  – the second version of the Bolverk-wielding fighter, fully supervised by BLAZBLUE creator Toshimichi Mori.
Beautiful presentation box with artwork exclusive to this edition!
The BLAZBLUE CENTRALFICTION Azure Edition is already available to pre-order from Rice Digital at the following links:
BLAZBLUE CENTRALFICTION features over 30 characters, brand new game mechanics, over 30 hours of story and over 60 stages – making it the biggest in the series to date.
Retaining its gorgeous 2D style and animation, BLAZBLUE continues to set the bar for beautifully lavish fighting games boasting exceptional craftsmanship.
BLAZBLUE CENTRALFICTION will bring the fight to Europe on PS4 and PS3 in November 2016!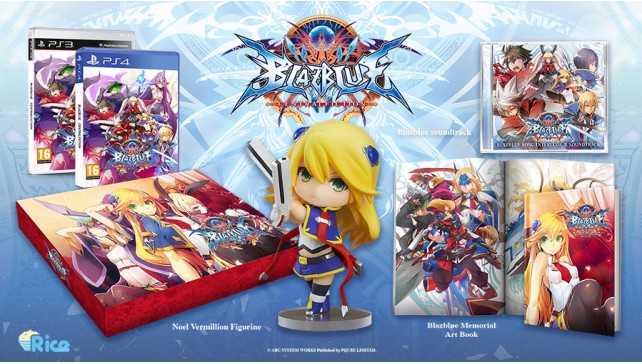 Rice Digital annuncia la Collector's Edition di BlazBlue: Central Fiction, con una miniatura esclusiva di Noel Vermillion e molto altro. Restate sintonizzati per saperne di più!
Scheda Prodotto

Acquista BlazBlue: Central Fiction su Amazon a EUR 19,07
Data di uscita: 04/11/2016
---
Articoli correlati:
due parole sull'autore
Nato e cresciuto nell'epoca d'oro della prima PlayStation, ha visto il susseguirsi di almeno quattro generazioni di console fin da quando era bambino, ed è fermamente convinto che non smetterà mai di viverle sulla propria pelle. Suo unico rimpianto: non essere nato abbastanza presto da vedere la nascita dei primi videogiochi. Coltiva segretamente la passione per la scrittura, che sfoga sulle pagine di I Love Videogames proponendo folli idee (aka: rompendo le scatole) agli altri redattori. Gestisce anche il podcast Gameromancer e la sezione Speciali.