Da una collaborazione Konami e IDW Games nasce  Metal Gear Solid: The Board Game, che adatterà la nota serie stealth/action sotto forma di gioco da tavolo.
IDW Games ha annunciato tramite un post che sta lavorando al fianco di Konami per realizzare Metal Gear Solid: The Board Game. L'iconico franchise diventerà quindi un gioco in scatola  basato sul primo capitolo di Metal Gear Solid.
In particolare, IDW ha spiegato che il gioco è caratterizzato da un gameplay "pienamente cooperativo" tra i giocatori che vestiranno i ruoli di Solid Snake, Meryl Silverburgh, Dr. Hal "Otacon" Emmerich e Gray Fox. Ognuno dei personaggi avrà le proprie abilità uniche in quanto necessarie per "completare gli obiettivi attraverso le campagne e i molteplici scenari".
Oltre a questo, il gioco sarà anche caratterizzato da "un sistema A.I. altamente dinamico e un gameplay di matrice sandbox". IDW Games ha aggiunto che il gioco permetterà ai giocatori di affrontare le missioni in una varietà di modi diversi ogni volta che si gioca.
Anche se non c'è una data di uscita specifica, ma solo un ampio arco temporale che comprende il prossimo anno, IDW Games ha precisato che Metal Gear Solid: The Board Game sarà giocabile all'E3 2019, e in diversi altri eventi, come l'Origins Game Fair, il Dice Tower Con, il San Diego Comic Con e il Gen Con.
Continuate a seguirci per saperne di più su Metal Gear Solid: The Board Game, e nel frattempo ecco a voi la scatola del suddetto gioco da tavolo.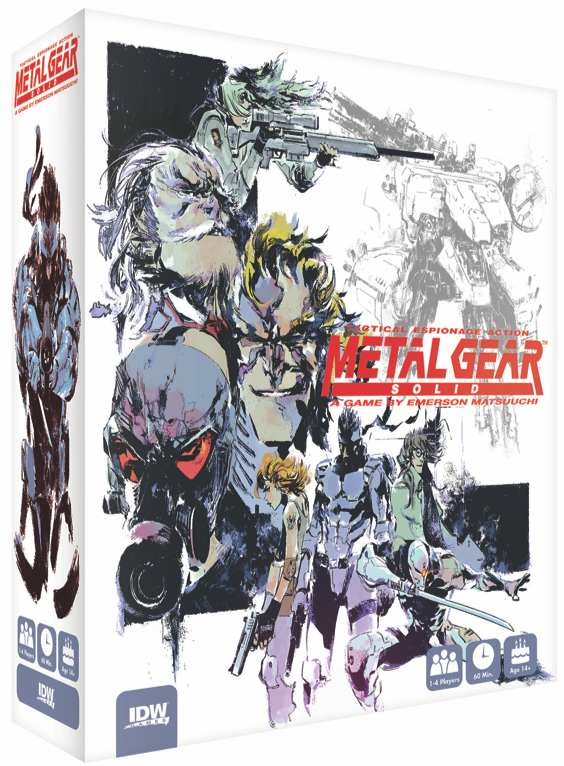 Fonte