Capcom annuncia tramite comunicato stampa i dettagli della limited edition europea del remake di Resident Evil 2 in arrivo su PlayStation 4 ed Xbox One il 25 gennaio 2019. Qui di seguito riproponiamo il comunicato stampa integrale in lingua inglese.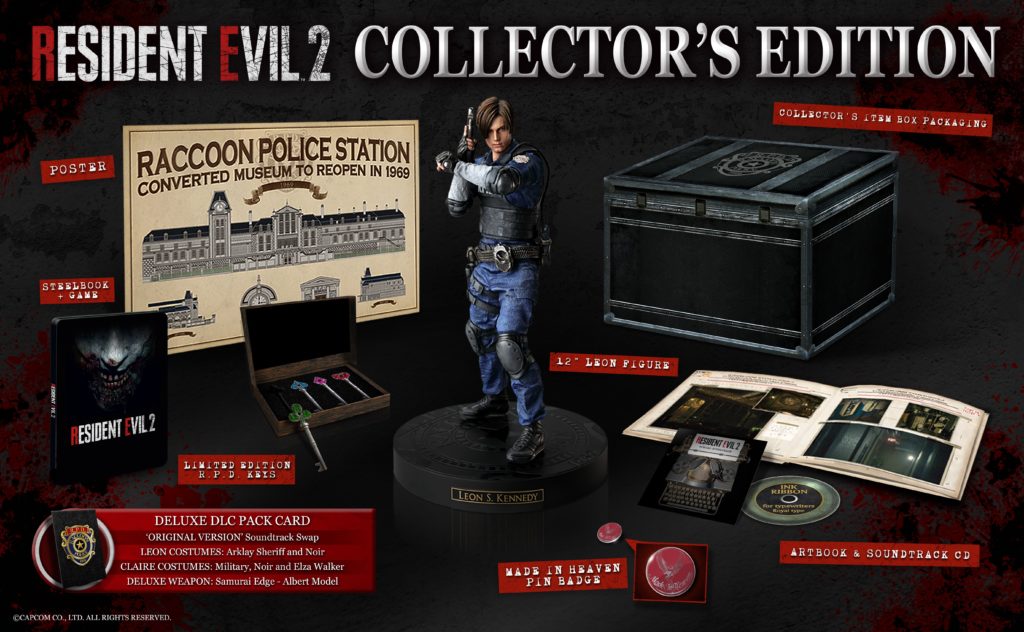 A physical Resident Evil 2 Collector's Edition will be launching across Europe alongside the Standard Edition for PlayStation 4 and Xbox One on January 25, 2019.
The limited Resident Evil 2 Collector's Edition is bursting full of exclusive spine-chilling nostalgic merchandise and comes complete with a Steelbook Case, and Deluxe DLC Pack, all housed within iconic Item Box packaging:
Steelbook Case (Includes Resident Evil 2 full game)
12″ Leon Kennedy Figurine
Limited Edition R.P.D. Keys
Collector's Item Box
Artbook & Soundtrack CD
'Made in Heaven' Pin Badge
Poster
Deluxe DLC Pack Card:
o    'Original Version' Soundtrack
o    Leon Kennedy Costumes: Arklay Sheriff and Noir
o    Claire Redfield Costumes: Military, Noir and Elza Walker
o    Deluxe Weapon: Samurai Edge – Albert Model
Fans who pre-order any of the physical offerings from participating retailers* will receive the following DLC:
Deluxe Weapon: Samurai Edge – Chris Model
Deluxe Weapon: Samurai Edge – Jill Model
Originally released in 1998, Resident Evil 2, one of the most iconic games of all time, returns completely reimagined for modern platforms. Resident Evil 2 offers a fresh take on the classic survival horror saga with breathtakingly realistic visuals, heart-pounding immersive audio, a new over-the-shoulder camera, and modernized controls on top of gameplay modes from the original game.
Ricordiamo che il remake di Resident Evil 2  sarà disponibile il 25 gennaio 2019 sia in edizione fisica che digitale su PlayStation 4, Xbox One e PC.
Fonte