---
Tramite comunicato stampa, Spike Chunsoft ha annunciato l'arrivo di Steins;Gate Elite in occidente, con il gioco che sarà disponibile a inizio del 2019 su PS4, PC e Nintendo Switch.
STEINS;GATE ELITE LEAPS TO THE PS4,
NINTENDO SWITCH, AND STEAM IN EARLY 2019!
BONUS CONTENT INCLUDED FOR ALL PLATFORMS.
LOS ANGELES, CA, JULY 13, 2018 — In partnership with MAGES. Inc., Spike Chunsoft is releasing STEINS;GATE ELITE in Early 2019 for PlayStation®4, Nintendo Switch™, and Steam®!
An HD remake of STEINS;GATE: Linear Bounded Phenogram, a collection of 10 additional stories written by renowned writers, including the Zero Escape series scenario writer, Kotaro Uchikoshi, will be available for the PlayStation 4 and Steam versions. For the Nintendo Switch version, 8-BIT ADV STEINS;GATE, a special 8-bit graphics and chiptune version of the game developed by series creator Chiyomaru Shikura, will be available. These bonus contents are available with all digital and physical copies. Pre-orders are now available at your local retailer!
About the STEINS;GATE series
In 2009, 5pb. and Nitroplus created the award-winning science-fiction, interactive visual novel known as STEINS;GATE. Since then, the series has spawned a manga, drama CDs, a movie, a live action stage play, and an anime, including the now-airingSTEINS;GATE 0, and is loved by fans worldwide.
Scheda Prodotto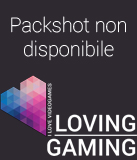 Prodotto non disponibile. Continua a seguirci per avere nuove informazioni
Data di uscita: TBA
---
Articoli correlati:
due parole sull'autore
Grande appassionato di JRPG, ma non dice di no se si tratta di altri generi. Ha iniziato a giocare all'età di 5 anni con la sua prima console portatile, il GameBoy e poi passato al mondo PlayStation, ma il primo amore non si scorda mai e dura tutt'oggi. Stufo di aspettare in eterno localizzazioni di giochi che non si vedranno mai in occidente ha intrapreso la via dell'import, causa di grandi sofferenze al suo portafogli