---
Tramite PSNProfiles è stata svelata la lista trofei di The American Dream, il titolo VR in arrivo domani per Oculus Rift, HTC Vive e PS VR.
In totale nel gioco sono presenti 34 trofei, di cui: 1 Platino, 6 Oro, 7 Argento, e 20 Bronzo. Si tratta per la maggior parte di trofei facilmente ottenibili progredendo nel gioco, alcuni di questi richiederanno però il conseguimento di specifiche azioni.
Ecco quindi la lista completa dei trofei:
ATTENZIONE: si sconsiglia di consultare la lista se si vogliono evitare spoiler sul gioco.
Lived The American Dream – Thanks for playing! Love, Samurai Punk <3 – Platinum
Begin The Cycle – (Chapter 1) Begin your journey into The American Dream – Bronze
Baby's Got a Gun – (Chapter 3) Shoot down the ducks with 100% accuracy – Bronze
Rising Star Award – (Chapter 4) Catch the fastball in your face – Bronze
Heartbreak – (Chapter 5) Change your mind about which one of the twins you like – Bronze
Carnival Pleasures – (Chapter 6) Shoot down 5 pins from the back row in the shooting game – Bronze
Royale With Cheese – (Chapter 7) Earn at least $5.00 – Bronze
Razzed My Berries – (Chapter 8) Out-dance Rex George – Gold
Float Like a Butterfly, Sting like a Bullet – (Chapter 9) Defeat the hose without getting hit by any bolts – Bronze
Oh, Maggot! – (Chapter 10) Eat at least 4 maggots from the cheese – Silver
How Is Babby Formed – (Chapter 11) Learn how babies are made – Silver
Cleansing The Mind – (Chapter 12) Hit yourself in the head with toilet paper – Bronze
Freedom of Speech – (Chapter 13) Listen to all of Rex's objection before shooting him – Silver
Vegan-Friendly Bagels – (Chapter 14) Complete the stage without letting a single rat dough through – Bronze
Environmentally Conscious – (Chapter 15) Shoot 15 beer cans into the trash can – Bronze
True Patriot – (Chapter 16) Ensure all daisies survive til the end of the stage – Silver
August 24th – (Chapter 17) Eat the entire stack of waffles – Bronze
370,000 Traces A Year – (Chapter 17) Eat the entire stack of waffles – Bronze
Catch of the Century – (Chapter 19) Shoot a fish in mid-air – Bronze
Edward Scissorguns – (Chapter 20) Complete the stage without a single civilian casualty – Gold
Peacemaker – (Chapter 21) Blow up 20 cars – Bronze
The Ring of Freedom – (Chapter 22) Witness the dawn of the Second American Revolution – Gold
Muzzle Break – Reach the Intermission – Silver
Continue the Cycle – Experienced the fake ending – Gold
End the Cycle – Experienced the true ending – Gold
The Business of Freedom – Buy 50 Guns – Bronze
Super Size Me – Eat 30 pieces of food – Bronze
Happiness Is a Warm Gun – Shoot 1,000 Bullets – Silver
Bring All The Boys to The Yard – Make a milkshake – Bronze
Jerkin Around – Pump the shotgun 10 times without shooting – Bronze
Lock and Load – Manually eject and reload your gun 100 times – Bronze
Twinkle Twinkle – Shoot 1 hidden star – Bronze
Half a Patriot – Shoot half the hidden stars – Silver
Star Spangled Banner – Shoot all 48 hidden stars – Gold
The American Dream è in uscita il 14 Marzo 2018 per Oculus Rift, HTC Vive, e PS VR.
Tramite PSNProfiles è stata svelata la lista trofei di The American Dream. Rimanete con noi per nuovi aggiornamenti.
Scheda Prodotto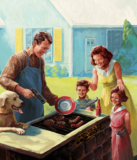 Acquista The American Dream sul tuo shop digitale di riferimento
Data di uscita: 14/03/2018
---
Articoli correlati:
due parole sull'autore
Videogioca da sempre: stabilisce il monopolio casalingo del SNES a due anni, qualche anno dopo diventa collezionista compulsivo di Stelle su Super Mario 64 e un kartista temuto in tutto il Regno dei Funghi. Predilige i generi Platform e (J)RPG, ma adora comunque il videogioco in tutte le sue forme (tranne gli sportivi, quelli proprio no). Fanatico delle portatili, meglio non toccare il suo 3DS.