---
Square Enix annuncia tramite comunicato stampa che Final Fantasy: Brave Exvius ha raggiunto i 30 milioni di download in tutto il mondo. Per festeggiare il traguardo ci sarà un evento speciale con una quest da completare entro il 31 Marzo. Coloro che hanno completato la quest saranno estratti a sorte e potranno vincere 1 milione di Lapis, la valuta di gioco. Sono previste anche altri iniziative che si terranno sempre durante il mese di Marzo fino al 4 Aprile.
FINAL FANTASY BRAVE EXVIUS CELEBRATES 30 MILLION DOWNLOADS ON MOBILE DEVICES WORLDWIDE
Square Enix Ltd.,
 have today announced that 
FINAL FANTASY® BRAVE EXVIUS®,
 the beloved FINAL FANTASY RPG on mobile devices, has been downloaded more than 30 million times worldwide. To commemorate the momentous occasion, players can participate in a series of in-game events and activities for a chance to receive massive prizes and rewards.
The new '30 Million Downloads Raffle' will be available from 22nd March for all players to participate in. Those that complete the celebratory quest before 31stMarch will be entered into a special drawing to win a plethora of prizes, including a grand prize of one million Lapis (in-game currency).
The full list of prizes include*:
·        One lucky 1st place winner will win 1,000,000 Lapis
·        10x 2nd place winners will win 100,000 Lapis
·        20x 3rd place winners will win 50,000 Lapis
·        30x 4th place winners will win 30,000 Lapis
·        26,100x 5th place winners will win 1,000 Lapis
* Detailed information will be announced through in-game announcements.
Players will also have an opportunity to receive free in-game prizes throughout the month, including:
·        '30 Million Downloads Celebration Free Summon' – From today until 19th March, players can summon on a special banner once daily for free. Additionally, players who login between 2nd March and 30th March will receive a free 10+1 Summon Ticket, meaning a total of 30 free summons throughout the campaign
·        Special '30 Million Downloads Celebratory Summon' Banner – Players can receive a special 'Free Daily 30 Million Downloads Celebration Ticket' once daily from 22nd March through to 4th April by logging into the game. The summon tickets gives players access to two characters and one 5% character-specific Trust Moogle
FINAL FANTASY BRAVE EXVIUS is available now as a free-to-play app (with in-app purchases) through the App Store, Google Play and the Amazon App store. The game is available in six languages: English, German, French, Spanish, Chinese (traditional) and Korean.
Scheda Prodotto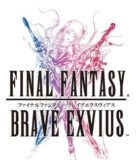 Acquista Final Fantasy: Brave Exvius sul tuo shop digitale di riferimento
Data di uscita: 29/06/2016
---
Articoli correlati:
due parole sull'autore
Grande appassionato di JRPG, ma non dice di no se si tratta di altri generi. Ha iniziato a giocare all'età di 5 anni con la sua prima console portatile, il GameBoy e poi passato al mondo PlayStation, ma il primo amore non si scorda mai e dura tutt'oggi. Stufo di aspettare in eterno localizzazioni di giochi che non si vedranno mai in occidente ha intrapreso la via dell'import, causa di grandi sofferenze al suo portafogli