Come siamo ormai abituati, anche quest'anno Atlus ha reso noti i titoli che porterà al prossimo E3 2017, che vi ricordiamo si svolgerà dal 10 al 13 di questo mese. La cosa insolita, però, è che la società, dipendente da SEGA, porterà anche il suo Yakuza 6: The Song of Life, accompagnato da 13 Sentinels: Aegis Rim, sviluppato in collaborazione con VanillaWare.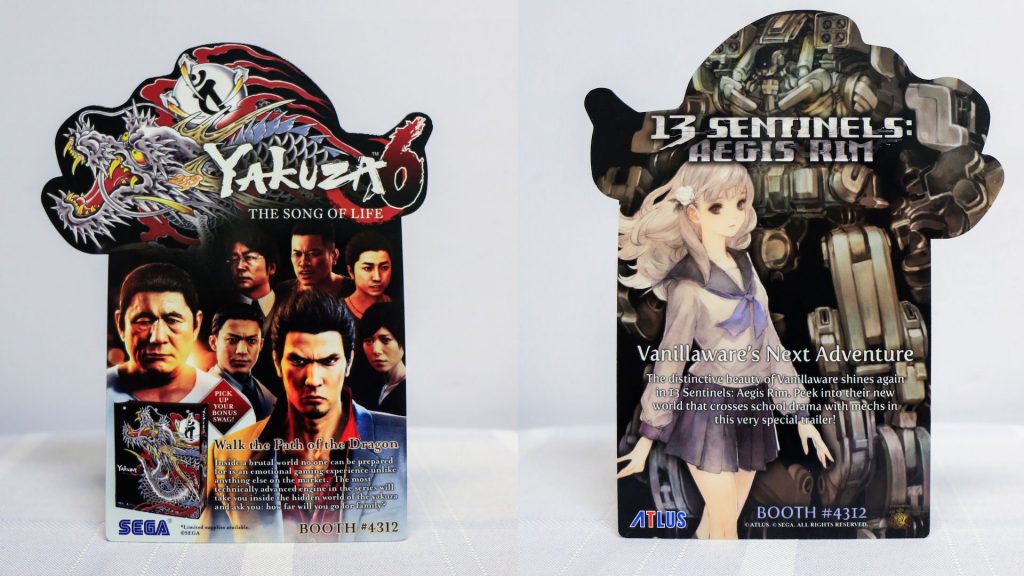 Le descrizioni delle etichette sopra riportate recitano:
Yakuza 6: The Song of Life:
"In un mondo brutale nessuno può considerarsi preparato per un'esperienza di gioco così emozionante, unica nel mercato. Il motore grafico più tecnicamente avanzato di questa serie ti porterà dentro il mondo nascosto della Yakuza, e ti verrà da chiederti: fino a che punto ti spingeresti per la famiglia?"

13 Sentinels: Aegis Rim:
"La nuova avventura targata VanillaWare. La loro distintiva abilità risplende ancora attraverso 13 Sentinels: Aegis Rim. Fatevi catturare nel loro nuovo mondo, che incrocerà drama scolastici con dei mecha in questo speciale trailer!"
Ricordiamo che 13 Sentinels: Aegis Rim sarà prossimamente disponibile per Playstation Vita e Playstation 4, mentre Yakuza 6 solo per quest'ultima.
Rimanete sintonizzati su I Love Videogames per futuri approfondimenti post-E3.
Fonte