---
Sumo Digital ha annunciato che Snake Pass, nuovo platform in uscita il 29 Marzo su PlayStation 4, Xbox One, Nintendo Switch e PC, sarà rilasciato sugli store digitali al prezzo di €19.99.
Inoltre, in attesa del rilascio, Sumo Digital ha diffuso il primo di una serie di videodiari che illustrano alcuni aspetti dello sviluppo di Snake Pass.
Altri dettagli disponibili nel comunicato stampa integrale.
Sumo Digital Reveals Pricing and Launches Debut Developer Diary for Slithery Physics Platformer Snake Pass
Retro-Inspired Collectathon Platformer to be Showcased at GDC 2017 in Partnership with Xbox, Nintendo, Unreal and Indie MEGABOOTH
February 23rd, 2017 – Sheffield, United Kingdom – Independent developer Sumo Digital, the studio behind AAA blockbusters Sonic & All-Stars Racing: Transformed and LittleBigPlanet 3, today announced that Snake Pass, its slithery physics platformer, will be available for £16.99, $19.99 and €19.99 on PlayStation®4, Xbox One™, Nintendo Switch™ and PC on March 28th in North America and March 29th in Europe. Sumo Digital have also released the debut episode of its video dev diary series – The Story of Snake Pass – where creator Seb Liese discusses Snake Pass' humble beginnings from an internal game jam project, through development, to its first consumer demo at EGX Rezzed in 2016.
To view The Story of Snake Pass developer diary visit: https://youtu.be/YOsoM4IQhj0
"Sharing the first developer diary is great because it shows how quickly the game evolved. That original prototype already had the feel we wanted, but it was building an actual game around it that became the challenge," Said Seb Liese, creator of Snake Pass. "Seeing that rudimentary green snake is quite comical now. We worked so hard to turn him into something charming and ended up with the Noodle you see today, a character I hope will resonate with people of all ages!"
At Game Developer Conference 2017, held at the Moscone Centre, in San Francisco from February 27th – March 3rd, Snake Pass will be demoed at the Unreal Engine stand on Nintendo Switch (Booth 1024), Indie MEGABOOTH Showcase on PC and at the Microsoft Lobby Bar on Xbox One. Additionally Snake Pass will be part of the Xbox One Loft Press Event.
When a mysterious intruder threatens the tranquillity of their home, it's up to Noodle the Snake and Doodle the Hummingbird to embark on a daring journey to save the day. Controlling this dynamic duo, players must 'think like a snake' as they slither, curl and climb their way through 15 levels across 4 increasingly challenging themed worlds. Snake Pass is a unique take on the platforming genre that is intuitive and fun to learn, but will gradually test your snake charming skills to the limit!
To visit the official Snake Pass website visit: www.snake-pass.com
Follow Snake Pass & Sumo Digital on Twitter: @Snake_Pass & @SumoDigitalLtd
Like Snake Pass on Facebook: https://www.facebook.com/SnakePassGame/
Snake Pass sarà disponibile dal 29 Marzo su Xbox One, PlayStation 4, Nintendo Switch e PC. Continuate a seguirci per tutti gli aggiornamenti su Snake Pass.
Scheda Prodotto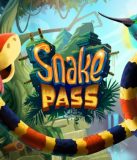 Acquista Snake Pass sul tuo shop digitale di riferimento
Data di uscita: 30/03/2017
---
Articoli correlati:
due parole sull'autore
Giacomo è il nonno del gruppo e giocatore fin dall'alba dei tempi. Finché non crepa, potete leggere i suoi deliri senili su queste pagine, che sopravviveranno al loro autore anche se chiudessimo il sito entro l'anno.