Sembra che l'utenza sia tendenzialmente in disaccordo con le opinioni della critica per quanto riguarda il nuovo capitolo di Call Of Duty, Infinite Warfare, il cui Metascore si aggira attualmente intorno all'80. Le prime recensioni internazionali mostrano infatti un certo grado di soddisfazione nei confronti del titolo, ma gli utenti non sembrano approvare il giudizio della stampa: nelle prime ore del mattino, il punteggio User Score di Infinite Warfare ha raggiunto il bassissimo picco di 2.8/10, come diretta conseguenza di una serie di recensioni negative (con voto 0) da parte di un gran numero di utenti.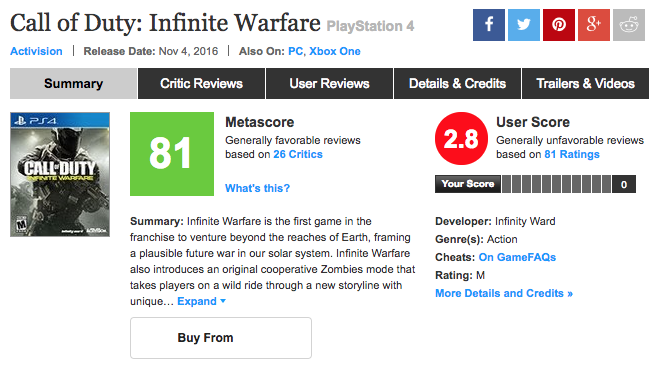 Mentre questo stesso articolo viene scritto, il voto si è rapidamente alzato di qualche cifra, arrivando all'attuale numero di 3.4/10. Diversi utenti hanno iniziato a rilasciare recensioni positive per controbilanciare l'ondata negativa delle prime ore, e ci aspettiamo che la situazione si stabilizzi nel corso dei prossimi giorni.
Nel frattempo, vi invitiamo a continuare a seguirci per l'opinione redazionale sul nuovo titolo di casa Activision, la cui recensione è già in lavorazione.
Call of Duty: Infinite Warfare riceve una serie di recensioni negative dagli utenti Metacritic, che abbassano vertiginosamente il suo User Score. Restate sintonizzati per saperne di più!
Fonte