Nella giornata di oggi, Bandai Namco Entertainment ha annunciato, tramite un comunicato stampa, i suoi risultati finanziari del secondo quarto dell'anno fiscale corrente, ovvero il periodo che va dal 1 Luglio al 30 Settembre.
Come è possibile vedere nella seguente tabella, ci sono stati considerevoli miglioramenti

Visti i risultati, il publisher ha anche alzato le proprie prospettive di vendita per l'intero anno fiscale corrente.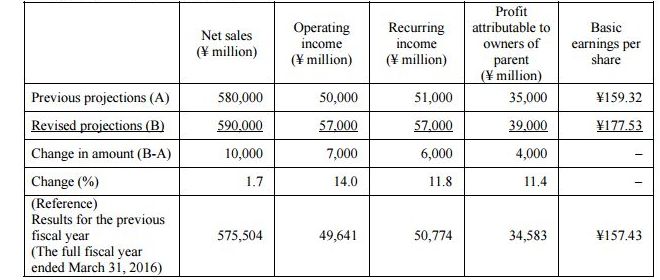 Il comunicato stampa inoltre, espone la situazione generale delle vendite dei prodotti pubblicati da Bandai Namco Entertainment, rivelando un quadro molto positivo anche grazie alle grandi vendite di Dark Souls 3 in Europa e in Nord America.
Vi lasciamo qui il comunicato per intero per chi fosse interessato
"In the second quarter (six months) of the fiscal year ending March 31, 2017, all businesses have exceeded the profit plan set out at the beginning of the fiscal year. The Toys and Hobby Business performed steadily, generally in line with the plan. In addition, the Network Entertainment Business and Visual and Music Production Business outperformed the plan as their highly profitable products and services gained popularity.

On the business front, for home video game software in the Network Entertainment Business, sales were favorable for the new title DARK SOULS III in North America and Europe. In network content such as game applications for smartphones and PC online games, key titles already existing in Japan such as The iDOLM@STER Cinderella Girls: Starlight Stage retained stable popularity, and titles marketed overseas, including in the Asian region, such as DRAGON BALL Z DOKKAN BATTLE continued to attract popularity.

In the Visual and Music Production Business, sales were favorable in the GIRLS und PANZER series for visual and music package software, and related products amid escalated popularity, especially for products themed around a movie release. Also, the LoveLive! series, which is IP for which visual content was developed in conjunction with music content and live events, retained popularity. Moreover, visual package software of the Mobile Suit Gundam series sold favorably.

In light of the actual results for the second quarter (six months) and recent business trends of each business segment described above, the consolidated projections for the full fiscal year are expected to exceed the consolidated projections announced on May 11, 2016. As such, the consolidated projections have been revised as stated in the table."
Vi ricordiamo inoltre che Dark Souls 3 è disponibile su PS4, XBOX ONE, e PC.
Fonte