---
Daedalic Entertainment annuncia, tramite comunicato stampa, che Silence sarà rilasicato il 15 novembre su PC, Mac, Linux, Xbox One e PS4.
Silence: Final Release Date
News and new screenshots from PAX West in Seattle
At this year's PAX West in Seattle, it's all about Silence since Daedalic Entertainment announces the final release date of its picturesque Modern Adventure. Silence will be released on November 15th 2016 for PC, Mac, Linux, Xbox One™ and Playstation 4™.

Furthermore, fans and press have the chance to play the latest chapters of Silence exclusively at PAX West.
Find Silence at the Daedalic booth at Pax West on Floor 6, booth #6508.

To celebrate those news, take a look at our latest gif!
Discover the picturesque world of Silence in those brand new screenshots.
Take a look at the latest Silence trailers here:
About Silence:

War rages on. During an air raid, 16 year old Noah and his little sister Renie seek shelter in a bunker. There, not only are they protected from the deadly bombardment, but are also at the crossroads of a world between life and death: Silence. When Noah's sister gets lost in Silence, he is forced to venture into this idyllic yet threatening world to find her.

Silence, however, bears its own scars of war and suffering. Dark creatures haunt towns and cities and ravage this once serene place between worlds. Only a small band of rebels stands against the looming menace. Now it is up to the siblings to save Silence and its fantastic inhabitants from impending doom and thus also save their own lives.

Join Noah and Renie on their exciting journey through Silence where an emotionally gripping story of contrasts between serenity and danger unfolds. Meet fascinating and likeable characters like Spot, the magical caterpillar who helps Noah and Renie on their way through Silence. And witness when the siblings discover that the only thing that can save them is their love for each other.

Features:
Elaborately designed 3D characters and opulent 2D backgrounds
Up 12 hours of enjoyable playtime
Three playable characters
There will be exciting new characters, but also a reunion with old friends
Scheda Prodotto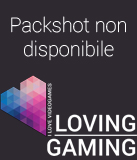 Prodotto non disponibile. Continua a seguirci per avere nuove informazioni
Data di uscita: 15/11/2016
---
Articoli correlati:
due parole sull'autore
Divoratrice di libri, manga ed anime; gamer-girl a tempo perso. Il suo eclatante ingresso nel mondo della tecnologia avviene all'età di tre anni, formattando, non si sa come, il computer dello zio. La sua esperienza di videogiocatrice comincia osservando il padre cimentarsi con Prince of Persia e Quake, salvo poi ricevere un computer tutto suo per iniziare a giocare autonomamente. Preferisce il genere RPG senza ombra di dubbio e serberà per sempre nel cuore il ricordo dell'estate in cui fuse la prima Play Station I giocando Suikoden II tre volte di fila per assaporare la trama fino in fondo.