All'inizio di questa settimana, il mensile CoroCoro aveva fatto trapelare le prime informazioni riguardo le due nuove Ultra Creature che saranno presenti in Pokémon Sole e Luna. Da poco il sito ufficiale giapponese del gioco è stato aggiornato, dandoci un  primo sguardo su UB02 Beauty e UB02 Expansion. 
Qui si seguito vi lasciamo agli screenshot e ad un artwork delle nuove creature:
UB02 Expansion:
UB02 Beauty:
Artwork: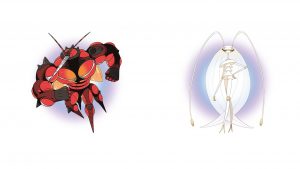 È stato anche rilasciato il trailer ufficiale per UB02 Beauty e UB02 Expansion che vi proponiamo:
Inoltre The Pokémon Company ha dichiarato che il prossimo aggiornamento ufficiale con una serie di nuove informazioni su Pokemon Sole e Luna arriverà martedì 20 settembre nei seguenti orari:
 6 AM PT
 9 AM ET
2 PM in the UK
3 PM in Europe
Continuate a seguirci per tutte le ultime novità su Pokémon Sole e Luna.
Fonte