---
Sold Out Sales & Marketing Limited è lieta di annunciare la distribuzione retail di un titolo sviluppato da Team17, Overcooked (qui per la nostra recensione).
Overcooked: The Gourmet Edition sarà rilasciato simultaneamente su PlayStation 4 e Xbox One nel corso del quarto trimestre del 2016. Questa edizione fisica vanterà dei contenuti aggiuntivi non presenti in quella originale, ossia:
Sei nuovi livelli caratterizzati da un nuovo tema
Sei nuovi chef da sbloccare, quali Dinosaur, Robot, French Bulldog, Panda, Bear e Pig
Sold Out Sales & Marketing Limited is delighted to announce another venture with award-winning veteran games developer and international games label Team17, to deliver a truly global (and delicious) retail release for Overcooked, launching in Q4.
Overcooked: the Gourmet Edition will release simultaneously for PlayStation 4 and Xbox One. Overcooked is the latest gem from the award winning Games Label Team17, and first boxed outing for two man development team Ghost Town Games.
Overcooked is a chaotic couch co-op cooking game for one to four players. Working as a team, you and your fellow chefs must prepare, cook and serve up a variety of tasty orders before the baying customers storm out in a huff. Sharpen your knives and dust off your chef's whites, there isn't mushroom for error and the stakes are high in these crazy kitchens!
The Onion Kingdom is in danger and only the finest cooking can save it! In Overcooked players must journey through a variety of cruel and unusual kitchens on their quest to become master chefs capable of conquering an ancient edible evil which plagues the land.
Play solo or engage in classic, chaotic couch co-op for up to four players in both co-operative and competitive challenge modes. You'll have to cook a range of different dishes and work together in order to become the most effective and ultimate team!
Overcooked features:
·         28 standard campaign levels plus an additional introductory level and final boss to conquer!
·          Local co-op play for 1 to 4 players across all campaign levels!
·         9 versus levels to go head to head locally with either 2 or 4 players
·         A range of different and unusual kitchens to play across with different recipes to master, cook soup, burritos, burgers and fish and chips
·         14 different chefs to play as!
·         Split pad controls! Play with two people sharing the same controller
·         11 achievements/trophies to cook up
Additional content for the Gourmet Edition will include:
·         6 brand new levels featuring an all new theme
·         6 brand new chefs to unlock including the Dinosaur, Robot, French Bulldog, Panda, Bear and Pig
Garry Williams, CEO of Sold Out, said, "Sold Out are proud once again to be in boxed partnership with Team17. With Overcooked they have found another smash hit that will continue to bring gamers together for local multiplayer chaos. This cute, yet quirky, game ticks all of the boxes for good, wholesome family fun, couch co-op at its finest. Overcooked isn't just for families, however, it's fun for adults too. What could be more fun than barking orders at your friends as you slide around while trying to cook fish and chips for penguins?"
Debbie Bestwick, Managing Director at Team17 added, "The reception to Overcooked thus far has been phenomenal. Being huge fans of the game ourselves, it's fantastic to see the game doing so well for the wonderful Ghost Town Games. I'm constantly getting messages from friends, both inside and outside the games industry, telling me how Overcooked is the one game that they can play together with their partner or family. That's why we knew we had to bring Overcooked to a wider audience via games retail as a boxed special edition. This is exactly the type of indie game retail should be supporting with such broad appeal, it's the perfect go-to game for guaranteed fun during the fast approaching holiday season!"
Overcooked: The Gourmet Edition sarà disponibile sul finire dell'anno corrente in versione fisica su PlayStation 4 e Xbox One.
Scheda Prodotto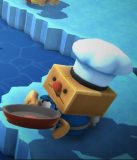 Acquista Overcooked sul tuo shop digitale di riferimento
Data di uscita: 03/08/2016
---
Articoli correlati:
due parole sull'autore
Un povero laureando in informatica, che ha scelto questa strada con la speranza di poter lasciare la propria impronta nel mondo dei videogiochi. Amante dei giochi di ruolo e, soprattutto, del gaming su PC (non a caso il PC gamer della redazione) non disdegna comunque il gioco su console, con diverse centinaia di ore di gioco per ciascuna console di sua proprietà.