---
Marvelous Europe annuncia, tramite comunicato stampa, che l'acclamato classico Wii Little King's Story sarà disponibile su PC tramite Steam, GOG e Humble Store alle 19.00 ora italiana.
HIS ROYAL HIGHNESS ARRIVES AT 18.00 TONIGHT! MARVELOUS EUROPE LAUNCHES LITTLE KING'S STORY ON WINDOWS PC
Popular Wii Classic Uniting Life-Simulation, Strategy, RPG, and Adventure Elements Now Available to PC Gamers Worldwide with Updated Graphics and Steam-exclusive Features
Tunbridge Wells, UK – 5th August, 2016 – Marvelous Europe today announced that its critically-acclaimed Wii classic, Little King's Story, will be available on Windows PC worldwide via Steam®, GOG.com, and the Humble Store by Humble Bundle with a 10% discount for the first week off the regular list price of £18,99, $24.99 and €22.99 (other international pricing may vary) at 18.00 BST. An HD remaster of the original Wii release from 2009, Little King's Story has been revitalised with graphical improvements and extended controller support alongside a wealth of Steam®-specific features.
Yoshiro Kimura, Little King's Story Game Designer at Onion Games, shared a message for fans and newcomers to commemorate this occasion:
"All of the characters in 'Little King's Story' came directly from my soul, so I can still remember what they look like and how they are doing. I'm sure that Howser is still riding Pancho around the field, and the other citizens are doing well, too. I'm also sure the carefree adults are still lying on the grass, doing nothing.
Thank you to the dedicated fans of the original for allowing me to reunite them like this— I hope you are as happy I as am to be able to relive 'Little King's Story' on PC.
I truly hope that those who played the original version, as well as those who are just learning about the game for the first time, will enjoy their time in Corobo's kingdom!"
Little King's Story combines life simulation and real-time strategy elements with an ample adventure and an enchanting storyline. Experience the story of Corobo, a timid young boy who stumbles across a crown with the mysterious power to charm any person who beholds it and make them follow any order. Using his newfound powers of persuasion and his royal sceptre, the newly-crowned King Corobo begins his efforts to expand his run-down kingdom of Alpoko beyond his humble village.
Every character in Corobo's kingdom has his or her own personality, and players can command these townspeople to carry out various tasks, be it treasure-hunting, digging ditches, fighting UMA (Unidentified Mysterious Animals), or constructing bridges to reach and conquer new lands. Controlling subjects effectively is the key to building a thriving kingdom, so rule wisely! Unite neighbouring kingdoms under one flag and show the world the dominance of King Corobo!
In addition to an HD graphical update, the Windows PC release of Little King's Story will allow for both XInput and DirectInput controller support while incorporating various Steam-specific features, including a set of newly conceived royal achievements. Resplendent Steam Trading Cards accompany the game as well in its Steam iteration, with completed decks rewarding a king's ransom of badges, backgrounds and chat emoticons.
Little King's Story is available from Steam
here
.
Scheda Prodotto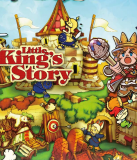 Acquista Little King's Story sul tuo shop digitale di riferimento
Data di uscita: 05/08/2016
---
Articoli correlati:
due parole sull'autore
Divoratrice di libri, manga ed anime; gamer-girl a tempo perso. Il suo eclatante ingresso nel mondo della tecnologia avviene all'età di tre anni, formattando, non si sa come, il computer dello zio. La sua esperienza di videogiocatrice comincia osservando il padre cimentarsi con Prince of Persia e Quake, salvo poi ricevere un computer tutto suo per iniziare a giocare autonomamente. Preferisce il genere RPG senza ombra di dubbio e serberà per sempre nel cuore il ricordo dell'estate in cui fuse la prima Play Station I giocando Suikoden II tre volte di fila per assaporare la trama fino in fondo.