---
Krillbite Studios ha annunciato, tramite comunicato stampa, la data di uscita per l'edizione retail di Among the Sleep. Il titolo è in arrivo su Playstation 4 e PC il prossimo 15 luglio in Europa. Maggiori dettagli nel comunicato riportato di seguito.
Among the Sleep – award winning horror game gets retail release date
Among the Sleep retail edition is available on PC and Playstation 4 on the 15th of July in Europe and on the 26th of July in North-America.
The first-person horror game Among the Sleep will be released as a retail edition in Europe and North-America.
The game has won multiple awards like Momocon Indie Game awards – Best Game award, Nordic Indie Sensation award and many more.
Unique, immersive & truly creepy
Among the Sleep is a horror game, played in first person from the perspective of a two year old child. The child wakes up in the middle of a dark and scary night and starts looking for mommy. This is not a simple task as the house is full of scary sounds and strange shadows in the closets.
Solve puzzles, hide from monsters and waddle your way through your big house to get to safety. But most importantly, don't forget to squeeze your teddy when the creepy sounds scare you… Because they will, as this is one of Among the Sleep's biggest strengths. The immersive, creepy ambiance and the unsettling sound-effects will make you feel like an actual, helpless two-year-old in a big scary house.
Scheda Prodotto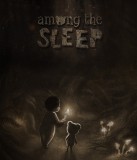 Acquista Among The Sleep su Kinguin
Data di uscita: 29/05/2015
---
Articoli correlati:
due parole sull'autore
Nato già con il joypad in mano, possessore di SNES prima ancora che del biberon ma cresciuto con la Playstation nel cuore. Grosso amante dei JRPG e dei titoli sportivi. Recentemente ha acquistato anche una Xbox One così da poter dire la sua su tutto il panorama videoludico attuale.