---
WayForward annuncia, tramite comunicato stampa, che Shantae and the Pirate's Curse arriverà su PlayStation 4 il 19 aprile 2016.
Valencia, Calif. –  4/14/2016 — WayForward is pleased to announce that Shantae and the Pirate's Curse is coming to Playstation 4 April 19th!
Name: Shantae and the Pirate's Curse
Publisher/Developer: WayForward
Release Date: 4/19/2016
Platform: Playstation 4
Players: Single Player
Price: $19.99 (25% off for PS+ Users Only)
EU Release Coming Soon!
Features
Developed by WayForward – makers of Double Dragon: Neon, Ducktales: Remastered and the Mighty Switch Force Series!
Unlockable Pirate-Mode
Earn Trophies
Multiple endings
Character portraits by Mega Man developer IntiCreates!
Epic original soundtrack by Jake "Virt" Kaufman
Ratings
• PEGI (Europe): 12 (Violence, Sex)
• USK (Germany): 6
• COB/OFLC (Australia/NZ): G (Very Mild Violence)
• RAR (Russia): 6
The original indie darling is back in her biggest adventure yet!
Critics are calling Shantae and the Pirate's Curse the pinnacle of this fan-favorite series!  The sequel to Metacritic's *handheld game of 2010: Shantae: Risky's Revenge, boasts more than double the content, and acclaim from fans and press alike!
She's still got it" -Destructoid
9.0 "…a must-play" -Nintendo World Report
9.0 "one of the most satisfying games I've played all year" – Hardcore Gamer
9.0, Gold Award "satisfying in every regard…guaranteed to please" -Pocket Gamer UK
9.5 "the pinnacle of the series" Wii Brasil
9.0 "an exceptionally well-crafted game that should not be ignored" -Nintendo Life
8.5 "stands above its retro-inspired contemporaries" –IGN
Continuate a seguirci per ulteriori aggiornamenti su Shantae and the Pirate's Curse.
Scheda Prodotto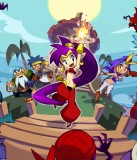 Acquista Shantae and the Pirate's Curse sul tuo shop digitale di riferimento
Data di uscita: 05/02/2015
---
Articoli correlati:
due parole sull'autore
Divoratrice di libri, manga ed anime; gamer-girl a tempo perso. Il suo eclatante ingresso nel mondo della tecnologia avviene all'età di tre anni, formattando, non si sa come, il computer dello zio. La sua esperienza di videogiocatrice comincia osservando il padre cimentarsi con Prince of Persia e Quake, salvo poi ricevere un computer tutto suo per iniziare a giocare autonomamente. Preferisce il genere RPG senza ombra di dubbio e serberà per sempre nel cuore il ricordo dell'estate in cui fuse la prima Play Station I giocando Suikoden II tre volte di fila per assaporare la trama fino in fondo.