La versione originale di Dying Light (qui trovate la nostra recensione) "sparirà" dagli store digitali il 9 Febbraio.
Sarà sostituito da Dying Light: The Following – Enhanced Edition, completa con nuove modalità, veicoli, mappa e l'espansione della storia.
La versione nuova del gioco rimpiazzerà la vecchia versione il 9 Febbraio in America, ma alcuni giocatori in Europa dovranno aspettare fino al 12 Febbraio per poter giocare sulle console "The Following – Enhanced Edition".
La versione fisica verrà venduta nei negozi e dovrebbe essere disponibile dal 9 Febbraio in molte regioni.
Techland ha detto che "il lancio di Dying Light: The Following – Enhanced Edition significa anche che la versione originale sarà più difficile da trovare".
"La versione digitale sparirà istantaneamente il 9 Febbraio. Così come per la versione fisica, cesseremo la spedizione di copie aggiuntive, rimarrà disponibile solo fino ad esaurimento scorte. Se il vostro piano è quello di acquistare ad un prezzo ridotto Dying Light, o se volete il box originale nella vostra collezione, questo è il periodo giusto per farlo.
Qui di seguito trovate una lista delle date di rilascio a seconda della regione: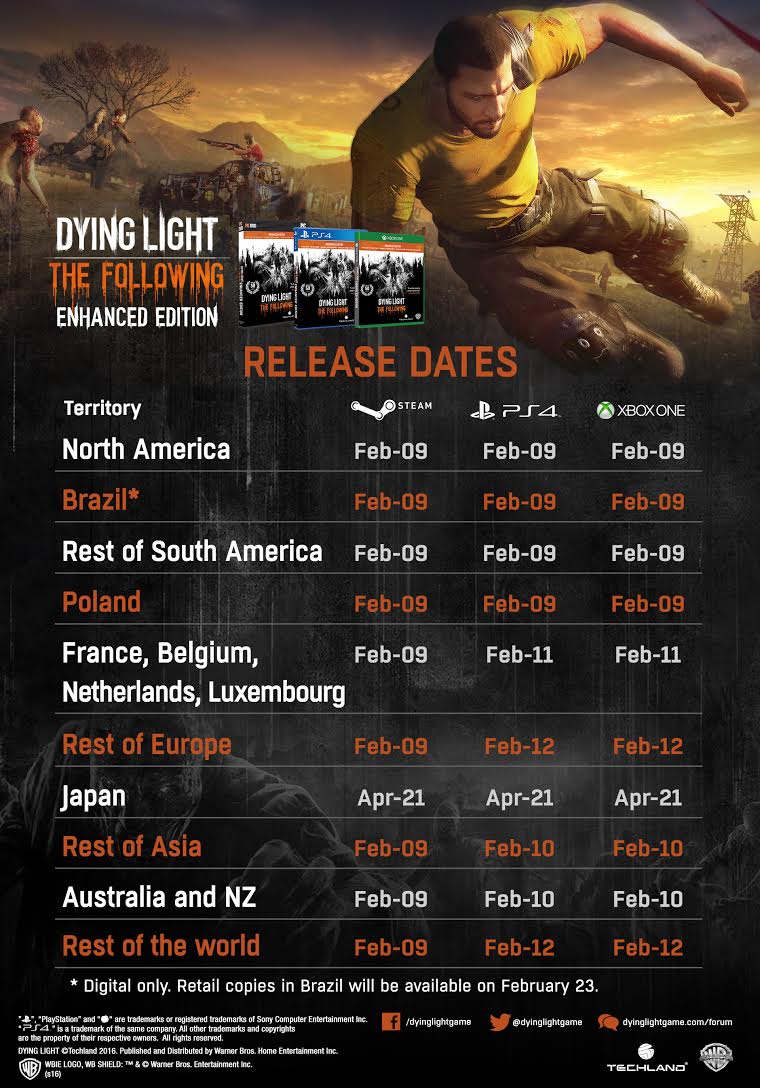 Restate con noi per rimanere aggiornati su Dying Light.
Fonte