---
PM Studios e Acttil annunciano, tramite comunicato stampa, che finalmente SUPERBEAT: XONiC è disponibile in Nord America ed in Europa e ne rilasciano un trailer e nuovi screenshots.
NORTH AMERICA, SUPERBEAT:XONiC IS READY TO JAM!
LOS ANGELES, CA., November 10, 2015— PM Studios and Acttil are excited to announce that their first co-published PlayStation®Vita title, SUPERBEAT: XONiC™, is now available in the North American market as of today, November 10, 2015, in retail and digital formats! Celebrating the launch of SUPERBEAT: XONiC, PM Studios and Acttil are thrilled to let XONiC enthusiasts know that DLC packs will be available in coming months. More details will follow shortly.
On December 5th and 6th, Acttil will be presenting SUPERBEAT: XONiC at PlayStation Experience in San Francisco! The special Limited Edition of the game will be raffled out to those who stop by and play the game at our booth. Please join us for the giveaway this super cool Limited Edition at PlayStation Experience! A SUPERBEAT: XONiC trailer featuring 3 difficulty modes (4 TRAX, 6 TRAX, and 6 TRAX FX) is available to below. The folder also includes PV trailer, screenshots, logo, pack shot, etc.
Continuate a seguirci per ulteriori aggiornamenti su SUPERBEAT: XONiC.
Scheda Prodotto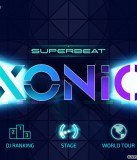 Acquista SUPERBEAT: XONiC sul tuo shop digitale di riferimento
Data di uscita: 10/11/2015
---
Articoli correlati:
due parole sull'autore
Divoratrice di libri, manga ed anime; gamer-girl a tempo perso. Il suo eclatante ingresso nel mondo della tecnologia avviene all'età di tre anni, formattando, non si sa come, il computer dello zio. La sua esperienza di videogiocatrice comincia osservando il padre cimentarsi con Prince of Persia e Quake, salvo poi ricevere un computer tutto suo per iniziare a giocare autonomamente. Preferisce il genere RPG senza ombra di dubbio e serberà per sempre nel cuore il ricordo dell'estate in cui fuse la prima Play Station I giocando Suikoden II tre volte di fila per assaporare la trama fino in fondo.