---
Telltale Games ha annunciato, tramite comunicato stampa, la disponibilità del 4° episodio di Game of Thrones: A Telltale Games Series.
Questo è il calendario previsto per il rilascio di Sons of Winter:
PC, Mac e PlayStation 4: disponibile a partire da oggi
Xbox One e Xbox 360: disponibile dal 27 maggio
Android ed iOS: disponibile dal 28 maggio
PlayStation 3: disponibile dal 29 maggio
Qui sotto potete leggere il comunicato stampa in versione integrale:
GAME OF THRONES®: A TELLTALE GAMES SERIES' RETURNS FOR SECOND HALF OF ITS SEASON WITH 'SONS OF WINTER'
A Telltale Games Series Set in the World of the Emmy Award®-Winning HBO Drama Releases Fourth of Six Episodes
SAN RAFAEL, CALIF., MAY 26TH, 2015 — Leading and award-winning developer and publisher of digital entertainment Telltale Games and HBO Global Licensing today announced the release of 'SONS OF WINTER,' the fourth of six episodes of GAME OF THRONES: A TELLTALE GAMES SERIES.

Based on the award-winning HBO television drama series, GAME OF THRONES: A TELLTALE GAMES SERIES tells the story of House Forrester.

Caught up in the events of The War of the Five Kings, they are placed in a precarious position where members of the household must do everything they can to prevent the house from meeting its doom.

The fourth episode is available now on PC/Mac from the Telltale Online Store, Steam, and other digital distribution services, as well PlayStation®Network for PlayStation 4 and PlayStation 3 in North America (SCEA), and for PlayStation 4 in Europe (SCEE). The episode will be available May 27th on the Xbox Games Store for Xbox One® and Xbox 360® video game and entertainment system from Microsoft, and will be coming to compatible iOS devices via the App Store and to Android-based devices on May 28th. The episode will be available on PlayStation®Network for PlayStation 3 in Europe (SCEE) on May 29th.

In Episode 4, the fate of the scattered Forresters hangs in the balance, and no one allied with the family is safe. An unexpected meeting offers Rodrik a new opportunity to free Ironrath from its Whitehill stranglehold, but with young Ryon Forrester still held prisoner, his next moves are critical. Gared must abandon Castle Black and venture beyond the Wall in search of the mysterious North Grove, risking encounters with Wildlings and worse. In King's Landing, the population is reeling from a recent royal death, and Mira must step carefully in an increasingly complex game of politics where secrets are traded as currency. Far away in Essos, Asher infiltrates the slave city of Meereen at the behest of Daenerys Targaryen, but will the friendship he holds dear break under the strain of a mission that raises memories best forgotten?

"With the first half of the season behind us, the stakes for House Forrester have been set and the fate of the family is now firmly in the player's hands," said Kevin Bruner, CEO and Co-Founder of Telltale Games. "Between the Whitehill occupation in Ironrath, dangerous alliances in King's Landing, revolution in Meereen, and treason at Castle Black – players will be challenged in every corner of the realm with decisions that will affect the outcome of their story this season, and beyond."

The game series is based on the world, characters and events seen in the hit HBO TV show, which in turn is based on George R. R. Martin's books (A Song of Ice and Fire). The events in the game series begin towards the end of Season Three of the series, and end right before the beginning of Season Five. Players visit familiar locations such as King's Landing and The Wall, as well as unfamiliar locations such as Ironrath, the home of House Forrester.

The game is played from five different points of view. Each is either a direct Forrester family member, or a person in service to the House. Scattered across Westeros and Essos, each will play their part in seeking to save House Forrester from destruction.

GAME OF THRONES: A TELLTALE GAMES SERIES – EPISODE 4: 'SONS OF WINTER' is rated 'M' (Mature) for Intense Violence, Blood, and Strong Language by the ESRB. Future content in the series is yet to be rated by the ESRB.
Scheda Prodotto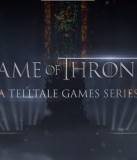 Acquista Game of Thrones: Season 1 sul tuo shop digitale di riferimento
Data di uscita: 03/12/2014
---
Articoli correlati:
due parole sull'autore
Divoratrice di libri, manga ed anime; gamer-girl a tempo perso. Il suo eclatante ingresso nel mondo della tecnologia avviene all'età di tre anni, formattando, non si sa come, il computer dello zio. La sua esperienza di videogiocatrice comincia osservando il padre cimentarsi con Prince of Persia e Quake, salvo poi ricevere un computer tutto suo per iniziare a giocare autonomamente. Preferisce il genere RPG senza ombra di dubbio e serberà per sempre nel cuore il ricordo dell'estate in cui fuse la prima Play Station I giocando Suikoden II tre volte di fila per assaporare la trama fino in fondo.