Interview with Alessandro Taini, Art Director of Enslaved and DmC
Recently,
I Love Videogames
has had the chance to have a chat with
Alessandro Taini
, a well-known professional in the international video games' industry. Beginning as a Concept Artist and then evolving as an
Art Director
in
Ninja Theory
, the artist is known for having left a consistent mark in
Heavenly Sword
,
Enslaved: Odissey To The West
and the recent
DmC: Devil May Cry
.
He also had the chance to leave his signature in the beginning phases of development for
Hellblade: Senua's Sacrifice
(
coming soon on PlayStation 4
), before leaving his former company to follow some other projects. The artist – who has been living in
England
for more than 12 years now – gave us his personal view on the video games industry, in a pretty long chat that you can read below.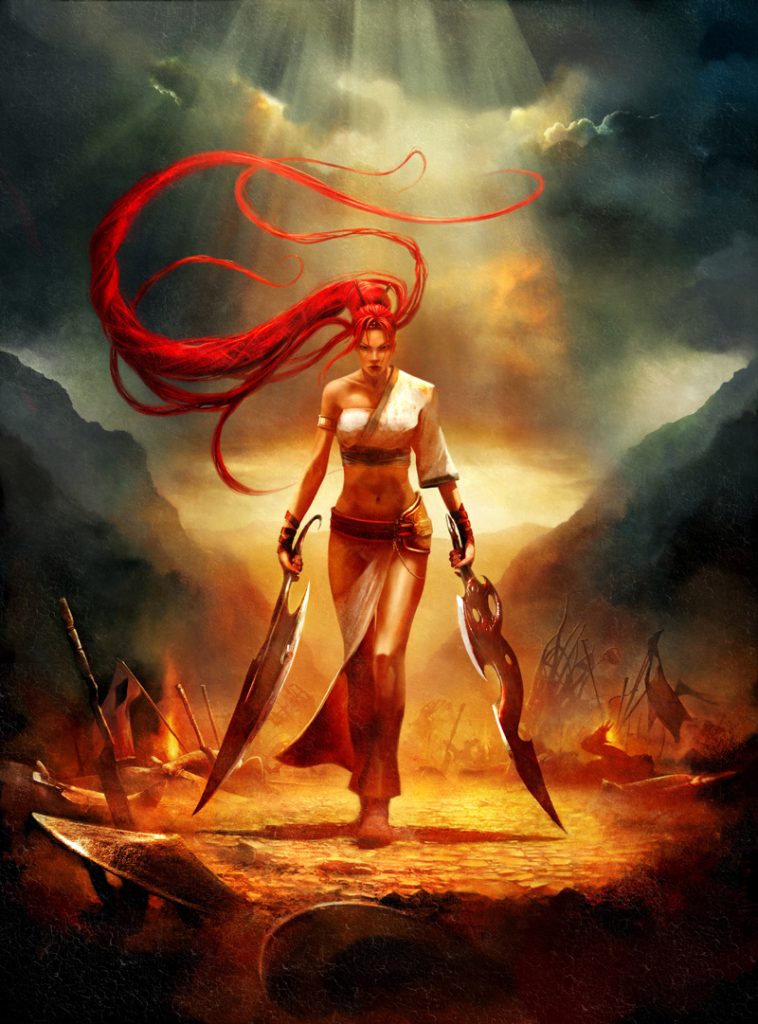 Q:
You worked at Heavenly Sword (a launch title for PS3), at a project such as Enslaved (with a really strong identity), and DmC, that divided the fans into two sides. Which one, among these, is the challenge you cherish the most?
A: In my experience, Enslaved is the one I remember fondly. It was my first job as an Art Director, so I had more responsibilities than in the past. At the time, only a few were using the Unreal Engine, and everyone was afraid their product would resemble Unreal too closely. Even the publisher was a little "worried", and the people following the project were having an "inside bet": using Unreal Engine while, at the same time, making Enslaved different from other games developed with the same Graphic Engine. (…) it was a lot of work, even on the artistic side: we were the first ones to create this "cheerful-post apocalyptic" idea, with bright colors and the nature taking the world back. It was a really creative idea, and I'm happy that many games followed it soon after. Q:
Let's talk about DmC talk for a moment: What would you like to say to those who define it a "fake" Devil May Cry?
A: It's our personal interpretation rather than a fake, and it is exactly what the publisher asked us to do. It goes without saying that whoever holds the gamepad and plays the final product, just ignores the story behind this job: if a client wants something – and he pays you to create it – you, as a developer, can't do the opposite. You must do what he says. Plus, their idea was in line with our way of thinking: we had the opportunity to make something new and closer to our style rather than recreate what had already been made by other people. Obviously, if the Art Director is Italian or European, it's easier to take a certain decision; in the East there's a different conception of video games, and this is why we created an alternative world (the limbo) that is empty for a reason, adding our personal touch to what we had seen in the previous games of the series. […] For example, about Dante's hair, we wondered: "Why is it white?". We thought that maybe Dante went into some sort of shock, or that maybe his power changed it over time. Had I had the opportunity to take a decision, I would have changed the color of his hair at half of the game, but eventually we decided to modify them at the end. And I want to restate that it's what the publisher told us to do: we started recreating the series following our own point of view (we were still working on Enslaved at the time), even changing nothing more than Dante's jacket; but Capcom wanted us to work on something different, and so it was. We started thinking not so much about the old series, but rather about the characters and their motivations. From there on, it has been an easy job.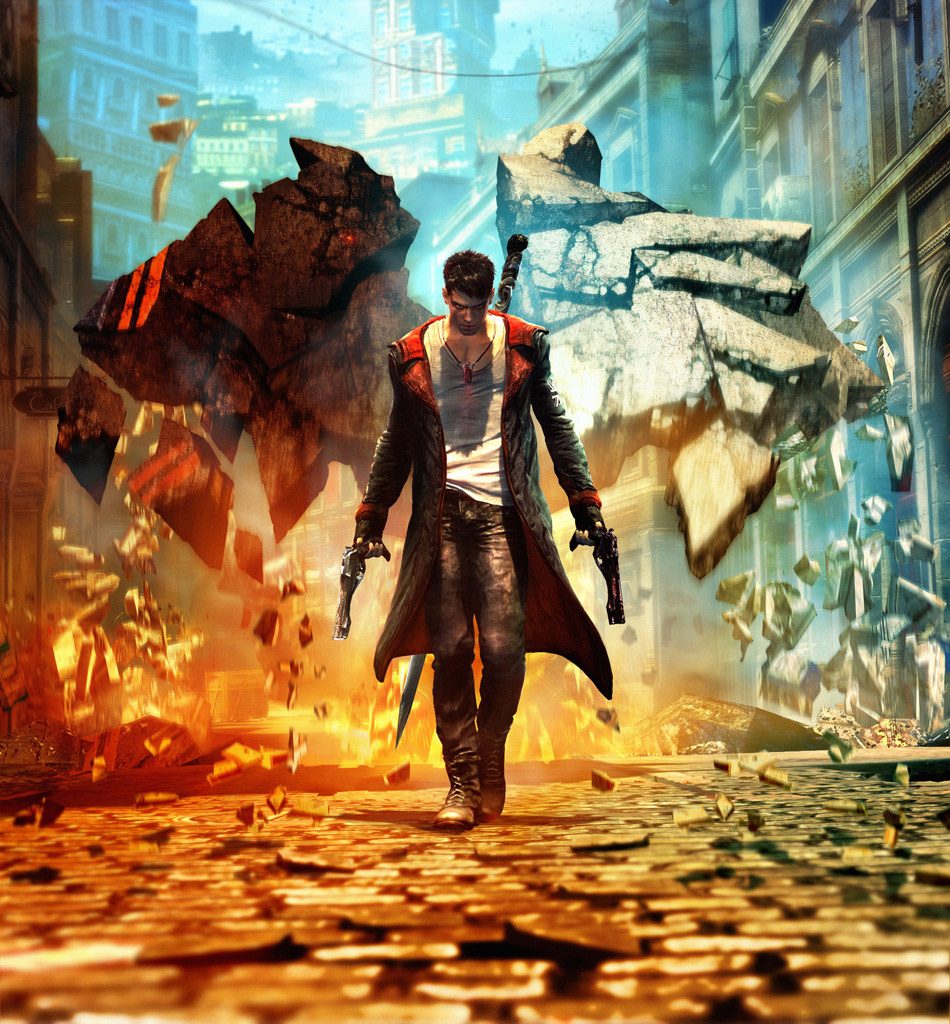 Q: A quick question for the fans: considering that you are a cinema aficionado, is it possible that John Carpenter's "They Live" (1988) was a source of inspiration for DmC?
A:
Yes, absolutely, one of many. Tameem Antoniades, Ninja Theory's Creative Director, is passionate about cinema, and "They Live" was exactly one of the films he sent us to get ideas to use in the game.
Q: About that, I'll be going straight to another question right now: which are your main sources of inspiration, both in video games and not?
A: Personally, I am a big fan of french comics, such as
Mœbius,
and I think you can see that in Enslaved. But, talking about cinema, I am extremely fond of the films of that period, full of meanings if compared to the ones screening nowadays. You might have noticed that they always create the same things. Thinking of something new is difficult and rare, and Ninja Theory used to create (and still does) many of their projects on this principle.
Q: About Ninja Theory, tell us about how you joined the team: how did you establish your artistic identity in the videogame industry?
A: At first, I lived in Italy, in Genova. My dream was to become an illustrator for the movie industry; as I said, I really liked comics, but they were really hard to make, since you need passion for comics and all their components. I was rather fascinated with the covers: I wanted to be a fantasy illustrator, and I started working to certain projects in Italy (even if I didn't see many results). My first cover was for Sperling & Kupfer, now a part of Gruppo Mondadori; Mondadori itself called me back for some works, but in the end, we accomplished nothing. […] Here in England it's another thing altogether: it doesn't matter who you are, or where you come from, or how old you are, but only what you're capable of. London and big cities are their own worlds, and they work a lot together with foreign talents; so, I came to London, I tried, and after three years of hard work (which I spent working in many hotels) I learned how to do digital graphics by myself, always carrying my portfolio with me. I also made some concepts and storyboards for an indie movie, but they were just small jobs to put in my CV; then, when I had a little more experience, Ninja Theory (which at the time were known as Just Add Monsters) were the only ones to call me back.
They had never had a concept artist, and they probably saw in me someone who could grow along with them; and so it was, it's because of them that I learned how to do digital works. The former Lead Artist followed me closely, and little by little I went from Concept Artist to senior to Art Director in three years.
I was lucky because Ninja Theory was still a small studio. I suggest that everyone who wants to work in the industry starts with smaller size studio, to get some experience, before aiming to larger software houses.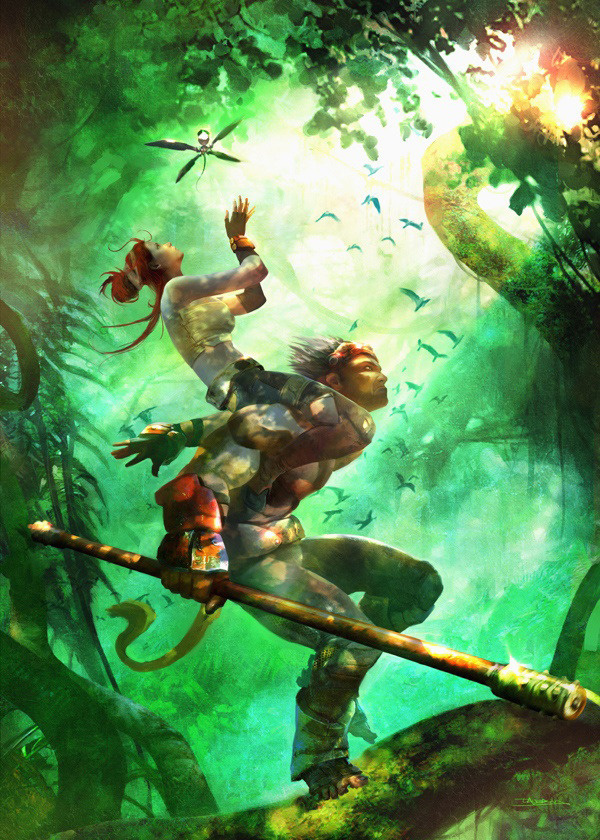 Q: We know that you left "Ninja Theory" to dedicate yourself to other projects; despite that, is there any title (maybe a sequel of one of your previous games or a consolidated IP) which you would like to work on?
A:
I would love to work on a sequel of one of my old games, even if I think this will never happen. In my opinion, it's a pity we never created a sequel for our games, and I think this is the reason why we didn't have so much success: if we analyse Naughty Dog, for instance, it's not like the first "Uncharted" had so much success; it was the second one that consolidated the franchise, and I think that a hypothetical "Enslaved 2" would have killed the scene. We had great ideas in mind, but unfortunately, we didn't get to develop them; just like we didn't create a second "Heavenly Sword", or – as for now – a second DmC. Personally, though, I love games like "Journey" and That Game Company in general. They don't develop AAA Games, that's true, but their artistic approach to games really attracts me.
Q: The next question comes spontaneously: are you also a gamer?
A:
Yes, not too much, but I am. I only play games that inspire me particularly, where I see an interesting story or an experience (artistic or not) that moves me deeply. Like the "Uncharted" saga and "Journey", for example.
Q: If you could choose, which would be your "Game of the Year 2016"?
A: If I had to choose one, even if it hasn't been released yet (but I am looking forward to it), then it would be The Last Guardian. In my opinion it's the perfect game: first of all, it's a game without big special effects and it's completely based on two characters. Its simplicity and realism attracts me. I have watched some videos, and it's incredible how Trico reacts like a real animal: you can't foresee what he's going to do, because he gets distracted even when he sees something moving. It's really hard to find these aspects in a video game. And then, as I have said already, I am also a huge fan of Uncharted.
Q: And regarding "The Last Guardian" and its art style: the growth of the Indie game industry brought up the debate on videogames as a form of Art. What's your opinion on the matter? As an Art Director, do you think that videogames can be referred to as Art?
A:
I'll just say that it's "Simply Art". [laughs] Personally, I've been to a great number of conferences (GDC and many others), and I found myself on the same page as the Art Director from "Monument Valley", a mobile game that has had a great deal of success, even without heavy marketing. They achieved this great success for a simple reason: because it's visually outstanding, because it visually draws you into it. They posted screenshots on Facebook, that was their marketing. They based the gameplay on art, creating gameplay mechanics on the art style. If, as it usually happens, you simply create a greybox with the game's formula, and you ask an artist to fill it with art, then the artistic side of the game only makes the game itself look good. If, on the other hand, you try and make the two sides, gameplay and art, combine (just like "Journey"), then you have a good result. It goes without saying that they both have to work: you can't have a good-looking game, with poor mechanics, neither can you have a game based entirely on mechanics. […] In my opinion, it all comes down to the Brainstorming Phase of the game's development. In DmC, everything worked out because we knew from the start that it would have been that type of game, and it got so beautiful that, even if for someone it was "extremely surrealistic", it managed to find its own particular identity. By the way, initially game designers at Ninja Theory had not idea that the hanging platforms could become part of the gameplay, and neither did I; when I created those unrealistic images, they recommended using the platforms from my sketches, as part of the game. Just like that, Art and Gameplay combined perfectly.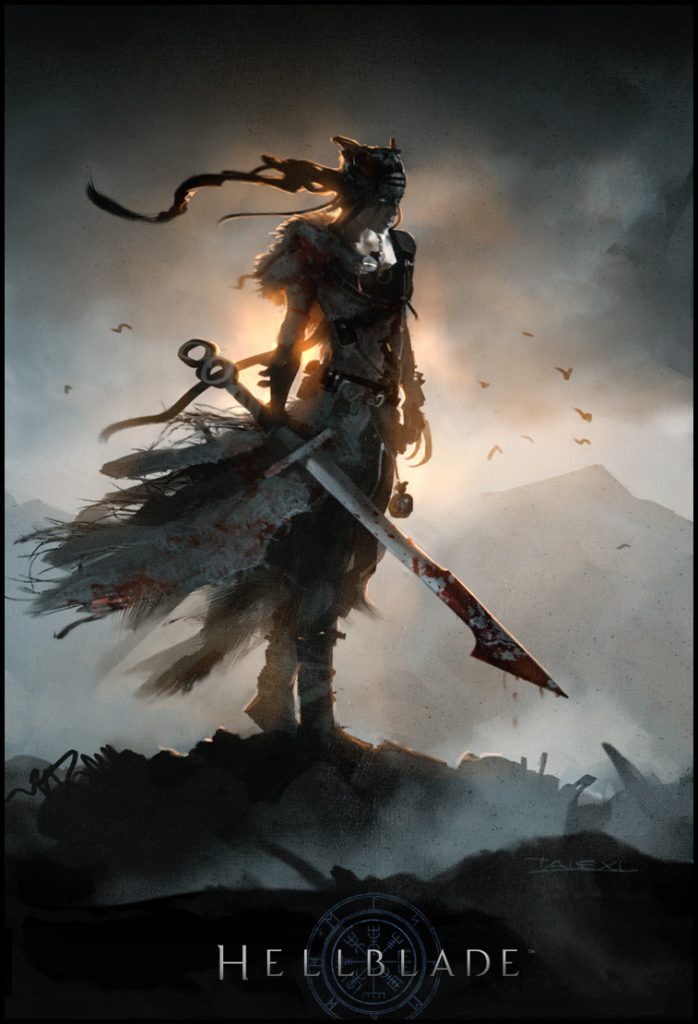 Q: Since we talked about indie games: you guys from Ninja Theory defined Hellblade a "AAA indie". What did you mean by that?
A:
[Laughs] This is tough.
We actually wanted to show that, exploiting the right elements, even a few people could create a high quality game. We wondered: "is it possible to create a game with the same high-quality standards, reducing the costs related to work and people?"; basically, we decided to maintain AAA standards without having to bet on a very long game whose price would have been around 40 pounds / 50 euros.
Q: I guess you can't spill the beans about Hellblade's launch date, am I right?
A
: No, no, I don't think it would be appropriate [laugh] When I was working with Ninja Theory, we already had a lot of cool ideas in progress, but certain ideas changed as time passed. At the same time, I was also busy on other projects, and so I thought that, after 12 years, it was the right time to work on other things.
Q: So, do you have any projects for your future?

A: Yes, I worked with Riot Games for 7 months: it was something new to me, I worked remotely, and I went visiting their offices only twice. Now I'm busy with some other projects, but I'm expecting that a new adventure could be waiting for me even starting next month. Q:
We're almost done. From an insider point of view, what do you think about PlayStation 4 Pro's and Project Scorpio's "Middle generation"?
A: I think they want to put everything they have on VR. It is likely that very soon every game will support PS VR, Oculus etc. Surely we're heading to a greater hardware power. […] The middle generations already started long ago, first with Apple and now here, in the console market. It is the market that has changed, it's pace exponentially grew: before, it would take years and years to evolve, now it's just a matter of very few months. We can't even compare these days with PlayStation 1's and Nintendo 64's age anymore; people gladly spend money on technologic innovations, and the arrival of VR-oriented hardware, must have pushed some software houses (already at half of the current generation) into thinking towards a more performing hardware.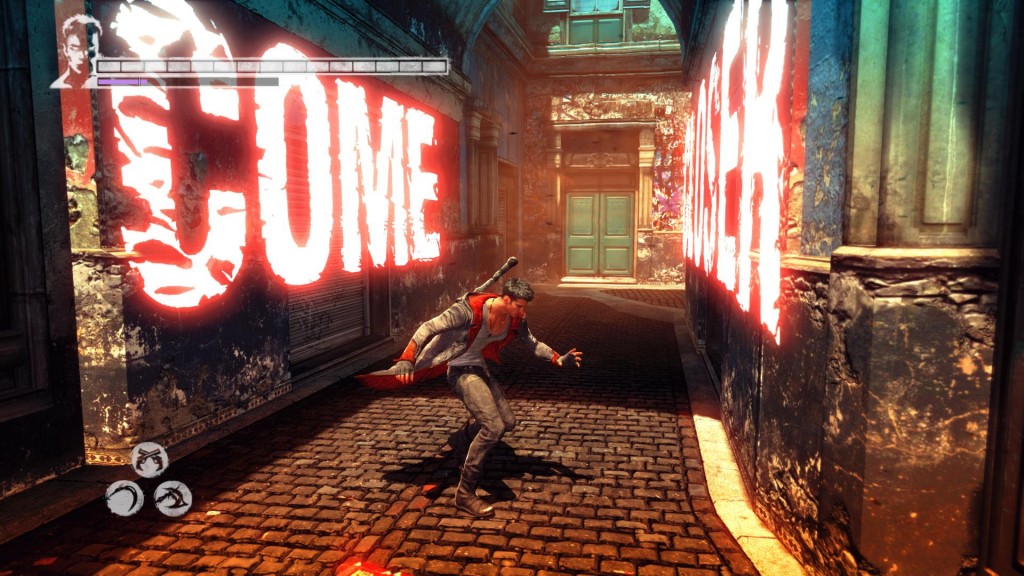 Q: And what about Nintendo Switch? Would you like to develop something for this console, sooner or later?
A:
Undoubtedly, the base concept is interesting. Morally, having another object to play that will distract me from the daily routine scares me a little. There is already the phone that distracts me in every moment, the apps on my smartwatch… Please give us a break! [laughs] But yes, the concept is very interesting and beautiful, because it's a great idea to be able to take these "living room" games with you everywhere you want. It would be nice to develop something for Nintendo: I've always loved their approach, full of gameplay and very old-school. It would be a challenge, also because Japan is always open to Europe's new talents. But, in my opinion, they should start to think about games that not only Japanese people, but also Europeans, could enjoy too. We've seen Mario in every possible way, it could be interesting to see something new.
Q: In conclusion, I have a more complex question for you: recently, one of our editors wrote a piece on Brexit, conjecturing on what might happen to the video games industry in the United Kingdom. What's your opinion on the matter?
A
: Yes, there could be some changes in the video games industry, but that could happen in many other different fields, such as the film industry: many Italian people work in this sector, in London, even in the most famous companies (such as Double Negative for the special effects, which is almost entirely Italian). But I think nothing will actually happen: it depends on the new rules they will create, but – from what I heard – people who have been for a long time in England won't have too many problems. Nothing will change for the ones that are already living in the UK, but it could be more difficult for people who want to "enter". For example, the passport will be mandatory, people will obtain a Visa like in America, and things like that. It's more an economic factor that will concern especially the economists: people say that, since the pound has lost a 30% value against the Euro, maybe the fact that everything will be cheaper might promote many industries and their budgets, both in cinema and in video games branches.
Q:
Good, Alessandro, we're done now. It's been a great pleasure, thanks for giving us some of your time.
A: You're welcome, it's been my pleasure. Besides, I'll tell you something I haven't told anybody yet: if everything goes as planned (let's hope for the best), I should soon publish a "The Art Of…" book containing all my works from Heavenly Sword to DmC. Unfortunately, nothing is sure yet, but it would be fantastic if I could gather everything together, creating a book like this. Maybe this could be the main subject, next time we speak.
Q: I'm sure it would be interesting to talk about it in the next future. Thank you again for the chat!
A: Thank you!
---
Here's a short gallery with some pictures from Taini's
official web site
; there, you'll find a full collection of his works. [nggallery id="3238″]