---
Daedalic Entertainment annuncia, tramite comunicato stampa, che la data d'uscita di Candle è prevista per l'11 novembre 2016.
Candle: Final Release Date
The unique puzzle adventure is due for release in November

This fall, everyone is on fire for Candle, since the final release date of the game has been confirmed.On this year's November 11th, Daedalic Entertainment and the Spanish developer Teku Studios will release Candle for PC, Mac and Linux.

About Candle:
Candle will be available on digital platforms such as Steam and GOG and as a boxed version in the German-speaking retail market, in Spain and in Italy. On Steam, Candle will additionally be released as an Enthusiast Player Edition with exciting additional content.
Candle is a puzzle adventure with demanding puzzles. Players take on the role of Teku, a young man bound to rescue his tribe's shaman from the vile Wakcha Clan. But the way is spiked with traps and many trials. To master the way ahead, Teku has to pay close attention to his suroundings and make good use of his deductive skills – or his journey will come to an early end.
But Teku has a special gift: His left hand is a candle. He can use it as a torch to fend off enemies or as a bright beacon to ligt dark places.
Candle's unique charm comes from the beautifully hand-drawn watercolor visuals, as all backgrounds, characters and objects have been individually painted and scanned for the game. Every minute of Candle feels like a living painting.
Features:
Pay close attention to all details to solve the challenging puzzles
Players will be able to tap into the power of the flame
Remarkable visual style: hand-painted watercolor images will make the game a vivid painting
Beautiful soundtrack with South American flair
Scheda Prodotto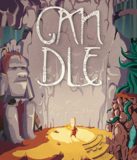 Acquista Candle su Kinguin
Data di uscita: 11/11/2016
---
Articoli correlati:
due parole sull'autore
Divoratrice di libri, manga ed anime; gamer-girl a tempo perso. Il suo eclatante ingresso nel mondo della tecnologia avviene all'età di tre anni, formattando, non si sa come, il computer dello zio. La sua esperienza di videogiocatrice comincia osservando il padre cimentarsi con Prince of Persia e Quake, salvo poi ricevere un computer tutto suo per iniziare a giocare autonomamente. Preferisce il genere RPG senza ombra di dubbio e serberà per sempre nel cuore il ricordo dell'estate in cui fuse la prima Play Station I giocando Suikoden II tre volte di fila per assaporare la trama fino in fondo.