---
Curve Digital ha annunciato, tramite comunicato stampa, le date di lancio per il titolo Stealth Inc 2: A Game of Clones.
Ecco un riassunto delle date rilevanti:
Xbox One: 3 aprile
PC: 7 aprile, tramite Humble Store
PlayStation 3: 8 aprile
PlayStation 4: 8 aprile
PlayStation Vita: 8 Aprile
Il prezzo sarà di 14,99€ per tutti i formati.
I possessori di PC e PlayStation potranno acquistare anche un bundle denominato "Stealth Inc: Ultimate-est Edition", il quale include anche tutti i DLC disponibili per un prezzo di 16.99€.
Qui sotto il comunicato integrale:
A Basket of Bastard: Curve's Action Platformer Stealth Inc 2 to Hit Consoles and PC this Easter
Stealth Inc 2: A Game of Clones to arrive first on Xbox One on Friday 3rd, making a Good Friday even better.
LONDON, UK – 02.03.2015 – Curve Digital has today announced the launch dates of their award-winning action platformer, Stealth Inc 2: A Game of Clones. The game will be available on Xbox One from Friday 3rd April, arriving on the PC via the Humble Store on April 7th and on PlayStation 4, PlayStation 3 and PlayStation Vita on April 7th (North America) and April 8th (Rest of world). The game will be priced at £12.99 / $14.99 / €14.99 on all formats – and is Cross Buy on PlayStation.
Stealth Inc was previously known on the PC as the beautifully named Stealth Bastard. The original title started out as a freeware game created in GameMaker Studio as a lunchtime project. Since its launch in 2011, the original game has sold over 500,000 copies across PC, PlayStation, iOS and Wii U.
Stealth Inc 2: A Game of Clones combines the best parts of puzzle platform gaming with a healthy dose of hiding in the shadows, hacking robots and getting blown into tiny pieces by lasers. The sequel is a full reimagining of the original, featuring a fully explorable, Metroidvania style overworld, brand new gadgets, a powerful level editor with full level sharing and a variety of excellent customisable hats.
In addition to Stealth Inc 2, PlayStation and PC owners will be able to purchase the 'Stealth Inc: Ultimate-est Edition' for just a few coins more, which includes all the available DLC on each format as well as full copies of Stealth Bastard, Stealth Inc and Stealth Inc 2. The bundle will be available worldwide for £13.99/$16.99/€16.99 and offers excellent value for people who've never checked out the original title.
Scheda Prodotto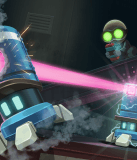 Acquista Stealth Inc. 2: A Game of Clones sul tuo shop digitale di riferimento
Data di uscita: 29/10/2014
---
Articoli correlati:
due parole sull'autore
Divoratrice di libri, manga ed anime; gamer-girl a tempo perso. Il suo eclatante ingresso nel mondo della tecnologia avviene all'età di tre anni, formattando, non si sa come, il computer dello zio. La sua esperienza di videogiocatrice comincia osservando il padre cimentarsi con Prince of Persia e Quake, salvo poi ricevere un computer tutto suo per iniziare a giocare autonomamente. Preferisce il genere RPG senza ombra di dubbio e serberà per sempre nel cuore il ricordo dell'estate in cui fuse la prima Play Station I giocando Suikoden II tre volte di fila per assaporare la trama fino in fondo.