Nell'ultimo numero di Shonen Jump sono stati rivelati i contenuti del terzo pacchetto DLC di Dragon Ball Xenoverse.
Nel DLC Pack 3 sarà incluso Freezer dorato dal film Dragon Ball Z: Revival of F assieme a Jaco il pattugliatore galattico che sarà un mentore. Il secondo mentore del pacchetto non è ancora stato rivelato ma potrebbe trattarsi di un altro personaggio dall'ultimo film di Dragon Ball Z in uscita.
Nel DLC saranno incluse anche 5 missioni parallele, 13 nuovi attacchi Super e Finali, la tuta verde di Gohan dal film Revival of F, 2 nuovi accessori e 3 nuove Z-Soul. Ricordiamo che questo terzo pacchetto DLC sarà disponibile entro la fine di aprile, potete trovare la scansione qui di seguito.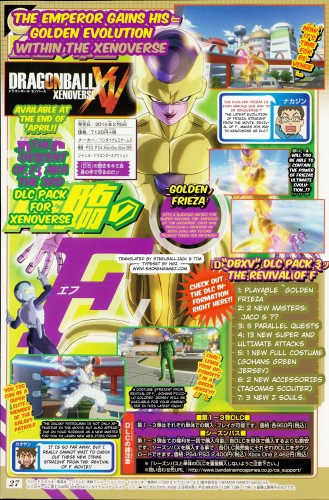 Ricordiamo che Dragon Ball Xenoverse è disponibile per PC, Xbox 360, Xbox One, PlayStation 3 e PlayStation 4.
Fonte