---
NIS America annuncia, tramite comunicato stampa, la disponibilità di un nuovo trailer dedicato a Birthdays the Beginning con Yasuhiro Wada.
Birthdays the Beginning – "Celebrate" Trailer With Yasuhiro Wada!
In the finale of Yasuhiro Wada's trilogy of Birthdays the Beginning trailer videos, Mr. Wada discusses the theme "Celebrate!"
As you play through the story, you will notice a creature library that you slowly build on. This creature library can show a player's captured life-forms, its rarity, and some insight on what life-form you captured! Once you finish the story mode, players will notice that only half of the library is discovered. Expand your world and find ways to capture all life-forms in free mode!
Lastly, Mr. Wada discusses "Challenge Mode" where your goal is to birth a specific organism within an allotted time given and other certain limitations. Think of it as a time attack mode! Remember, there are multiple ways to successfully complete the Challenge Mode, so anything goes!
Birthdays the Beginning arrives for the PlayStation 4 (NA) and Steam on May 9, 2017! The PS4 version for EU regions releases on May 12, 2017!
Scheda Prodotto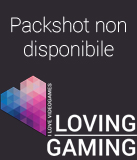 Prodotto non disponibile. Continua a seguirci per avere nuove informazioni
Data di uscita: 12/05/2017
---
Articoli correlati:
due parole sull'autore
Divoratrice di libri, manga ed anime; gamer-girl a tempo perso. Il suo eclatante ingresso nel mondo della tecnologia avviene all'età di tre anni, formattando, non si sa come, il computer dello zio. La sua esperienza di videogiocatrice comincia osservando il padre cimentarsi con Prince of Persia e Quake, salvo poi ricevere un computer tutto suo per iniziare a giocare autonomamente. Preferisce il genere RPG senza ombra di dubbio e serberà per sempre nel cuore il ricordo dell'estate in cui fuse la prima Play Station I giocando Suikoden II tre volte di fila per assaporare la trama fino in fondo.