---
Gli sviluppatori di Earthlock: Festival of Magic, disponibile dallo scorso Settembre su PC, Mac, Linux, PlayStation 4, Xbox One e Wii U, hanno annunciato che il gioco sarà presto rilasciato in versione retail.
L'uscita della nuova edizione è prevista per l'inizio del 2017, e sarà disponibile esclusivamente per PlayStation 4, Xbox One e PC. L'annuncio è stato rilasciato da Snowcastle Games e SOEDESCO tramite comunicato stampa:
Turn-based RPG Earthlock: Festival of Magic gets retail release on PS4, Xbox One and PC early 2017!
Snowcastle Games collaborates with SOEDESCO to release Earthlock: Festival of Magic for retail on PlayStation 4, Xbox One and PC. These will be available worldwide early 2017.
Earthlock: Festival of Magic is a very unique turn-based RPG, which succesfully mixes classic and modern features resulting in a very refreshing game with a deep story that will keep you playing for over 30 hours. Add to that the beautiful handdrawn graphics and it's easy to see why Earthlock: Festival of Magic is a must-have for the new year!
To go with an announcement like this, Snowcastle Games and SOEDESCO have revealed their new trailer! It can be watched right below.
"We are delighted to have SOEDESCO bring a physical version of Earthlock to our fans and can't wait for them to get their hands on the beautiful boxed version of our game," says Bendik Stang, Lead Developer and CEO of Snowcastle Games.
Features of Earthlock: Festival of Magic
Explore the vast and magical world of Umbra

Fast and highly strategic turn‐based battles

Harvest magical materials and craft items on your home island

A set of unlikely and unique heroes, each with their own unique fighting style

Talent Table: combining a classic 'skill tree' and equipment to customise your character's progression
Snowcastle Games e SOEDESCO annunciano che Earthlock: Festival of Magic arriverà in versione retail agli inizi del 2017 per PS4, Xbox One e PC. Restate sintonizzati per saperne di più!
Scheda Prodotto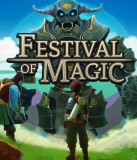 Acquista Earthlock: Festival of Magic sul tuo shop digitale di riferimento
Data di uscita: 01/09/2016
---
Articoli correlati:
due parole sull'autore
Nato e cresciuto nell'epoca d'oro della prima PlayStation, ha visto il susseguirsi di almeno quattro generazioni di console fin da quando era bambino, ed è fermamente convinto che non smetterà mai di viverle sulla propria pelle. Suo unico rimpianto: non essere nato abbastanza presto da vedere la nascita dei primi videogiochi. Coltiva segretamente la passione per la scrittura, che sfoga sulle pagine di I Love Videogames proponendo folli idee (aka: rompendo le scatole) agli altri redattori. Gestisce anche il podcast Gameromancer e la sezione Speciali.