---
Daedalic Entertainment e FAKT Software hanno rilasciato un nuovo teaser-trailer per Crazy Machines 3 nel corso della Gamescom 2016, rivelando al suo interno la data d'uscita del gioco.
Il titolo sarà disponibile a partire dal 18 Ottobre per PC, Mac e Linux, ed è già possibile pre-acquistarlo su Steam. Di seguito il comunicato stampa ufficiale:
Crazy Machines 3: New teaser reveals release date 
In autumn 2016 players can invent crazy constructions
Together with FAKT Software Daedalic Entertainment presents Crazy Machines 3 at the gamescom to the press of the fair. Additionally, a new teaser reveals the release date of the game: Crazy Machines 3 will be released October 18th, 2016, for PC, Mac and Linux platforms.
Crazy Machines 3 is based on the successful Crazy Machines series, with brand new gameplay and community features, as well as hyper-realistic simulation attributes. Crazy Machines 3 is the most advanced and extensive Rube Goldberg style puzzle and physics game of all times.
About Crazy Machines 3:
The successful Rube Goldberg style puzzle game series was first published in 2004, and has sold over 1.5 Mio. copies to this day. Crazy Machines 2 was release in 2007, with two add-ons each year respectively. The popular series now is available on all relevant gaming platforms: iOS, Android, Windows 8, Windows8/RT, Windows PC, Mac OS X, Xbox 360, PlayStation 3, Wii and DS, has been translated into over 10 languages and has won numerous awards.
Features: 
Hyper-realistic simulation of physical parameters such as solid bodies, electricity, lightning, wind, light, lasers, accustic effects, magnetism and steam.

Creativity meets freedom of choice: create and experiment with your own crazy machines and find your own ways of solving challenges.

Comprehensive editor: much more than just a physics sandbox, players can create their own ingenious puzzle levels and share them with the vaste Crazy Machines community.

Create your own building pieces: for the first time in the Crazy Machines series, players can now create their own building pieces from various materials and colors and can share them online.

Unlimited number of player generated levels online: share, exchange and rate your inventions with other players on Steam Workshop. 
More about Crazy Machines 3: www.crazy-machines.com/ 
Crazy Machines 3 on Steam 
Daedalic Entertainment e FAKT Software rilasciano un nuovo teaser-trailer per Crazy Machines 3, mostrando la data d'uscita prevista per il gioco. Restate sintonizzati per saperne di più!
Scheda Prodotto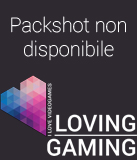 Prodotto non disponibile. Continua a seguirci per avere nuove informazioni
Data di uscita: 18/10/2016
---
Articoli correlati:
due parole sull'autore
Nato e cresciuto nell'epoca d'oro della prima PlayStation, ha visto il susseguirsi di almeno quattro generazioni di console fin da quando era bambino, ed è fermamente convinto che non smetterà mai di viverle sulla propria pelle. Suo unico rimpianto: non essere nato abbastanza presto da vedere la nascita dei primi videogiochi. Coltiva segretamente la passione per la scrittura, che sfoga sulle pagine di I Love Videogames proponendo folli idee (aka: rompendo le scatole) agli altri redattori. Gestisce anche il podcast Gameromancer e la sezione Speciali.