---
A Crowd Of Monsters ha rilasciato ufficialmente Blues And Bullets Episodio 2 su Xbox One a partire dalla giornata di oggi. Si tratta del secondo capitolo della serie episodica di Blues And Bullets, un'avventura dai toni noir che vede come protagonista l'ex leader degli Intoccabili, Eliot Ness.
Di seguito il comunicato stampa ufficiale:
BLUES AND BULLETS EPISODE 2 AVAILABLE TODAY ON XBOX ONE
Critically acclaimed episodic noir adventure game launches its second episode on Xbox One
Barcelona, Spain — April 8th, 2016 — Independent developer A Crowd Of Monsters today announced that the second installment of its episodic crime noir adventure game Blues and Bullets Episode 2: Shake The Hive launches on Xbox One today at 5pm CEST. Xbox One owners will take on the role of former detective Eliot Ness as he investigates, interrogates and exchanges gunfire with the criminal underworld of the fictional city of Santa Esperanza, as he simultaneously unravels the truth behind the case.
Episode 2: Shake The Hive, sees players don the coat of Eliot Ness once again, as he dives deeper and deeper into the conspiracy that he discovered in Episode 1. Players can expect to visit diverse locales including a submarine, learn more about Eliot's past, meet new characters, explore more complex crime scenes, and enjoy improved gun combat. As with Episode 1, the players' choices will have an impact on the storyline and culminate in a gripping cliffhanger.
Blues and Bullets Episode 2: Shake The Hive is available for Xbox and PC for $4.99 / €4.99 / £3.99 and as part of the Blues and Bullets Season Pass bundles, and will be available for Playstation 4 later in April.
A Crowd Of Monsters rilascia ufficialmente Blues And Bullets Episodio 2 su Xbox One a partire dalla giornata di oggi, dopo poche settimane dall'uscita PC. Restate sintonizzati per saperne di più!
Scheda Prodotto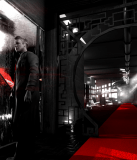 Acquista Blues And Bullets su Kinguin
Data di uscita: 23/07/2015
---
Articoli correlati:
due parole sull'autore
Nato e cresciuto nell'epoca d'oro della prima PlayStation, ha visto il susseguirsi di almeno quattro generazioni di console fin da quando era bambino, ed è fermamente convinto che non smetterà mai di viverle sulla propria pelle. Suo unico rimpianto: non essere nato abbastanza presto da vedere la nascita dei primi videogiochi. Coltiva segretamente la passione per la scrittura, che sfoga sulle pagine di I Love Videogames proponendo folli idee (aka: rompendo le scatole) agli altri redattori. Gestisce anche il podcast Gameromancer e la sezione Speciali.